Maha Ashtami, the third day of five-day Sharadiyo Durga Puja, is being celebrated amid different rituals including offering of Anjali, Kumari and Sandhi Puja at temples since morning today.
In the morning, Goddess Durga was offered puja followed by offering anjali by devotees and distribution of prashad among them at temples and makeshift pandals across the country including the capital Dhaka.

Dhakeshwari National Temple saw offering of puja followed by anjali by a large number of devotees in several rounds in the morning. Later, Sandhi puja was offered there in the late afternoon.

Prime Minister Sheikh Hasina visited Dhakeshwari National Temple puja mandap and also gave speech on the occasion. The Prime Minister also visted the Ram Krishna Mission.
Bangladesh Puja Udjapan Parishad (BPUP) president JL Bhowmik and Mahanagar Sarbajanin Puja Committee president Manindra Kumar Nath also spoke as Committee's general secretary Romen Mondal conducted the function.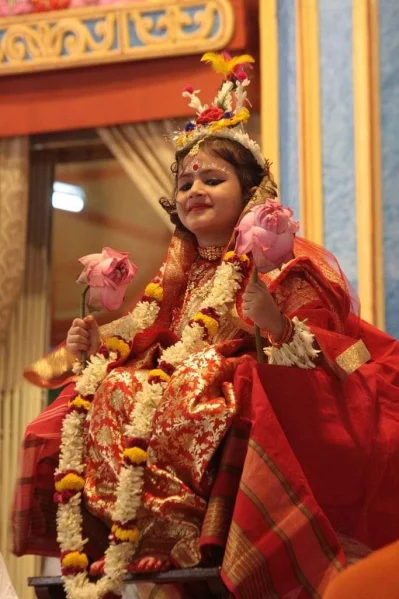 Dhaka South City Corporation mayor Sheikh Fazle Noor Taposh, local lawmaker Hazi Selim and BPUP former general secretary and AL central committee member Nirmal Kumar Chatterjee were also present.

Kumari Puja, a special ritual of Durga Puja, was held at Ramkrishna Math and Ramkrishna Math, Dhaka this morning as five-year old Shatakkhi Goswami attired with traditional sharee was worshiped in the mould of Uma, said Premananda Maharaj of the mission.

During this puja, a prepubescent girl is worshiped as the living incarnation or avatar of Maa Durga. She is dressed in new clothes and floral ornaments. This ritual has its origins in the Hindu Puranas.
Sandhi Puja was later offered at temples in the city as elsewhere in the country in the late afternoon and evening.
Kumari Puja was held in some traditional temples in Dhaka, Chattogram and other parts of the city.
Sandhi is a transition point between Ashtami and Nabami as the last 24 minutes of Ashtami and the first 24 minutes of Navami are known as 'Sandhikkhon', said a priest Sadhan Chakrabarty.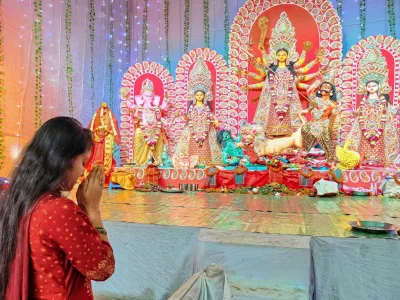 According to the Puranas, this is an auspicious moment in time when Durga manifests into Chamunda. Chamunda is a fierce, indomitable entity, who single-handedly defeated demon duo Sumbha and Nisumbha. A total of 108 earthen lamps (pradip) are lit to celebrate this momentous occasion.

On Saturday, Maha Saptami, the second day of the five-day Sharadiyo Durga Puja, was celebrated as temples and makeshift mandaps witnessed huge devotees and visitors while beautifully crafted idols of Goddess Durga was installed formally on Maha Shasthi on Friday.
Though puja began from Maha Shasthi, devotees started visiting puja pandals and mandaps from Saturday on the day of Maha Saptami.
Dressed in traditional red and white color sharee and panjabi, a massive number of devotees were seen visiting puja pandals across the country last evening.
Temples and mandaps have been illuminated and decorated gorgeously marking the puja as some puja pandals were portrayed in different theme signifying different aspects of life and religious stories.
Nabapatrika, nine plants including a banana tree tied together and wrapped in a white saree with red borders, were bathed in the water of nearby rivers or ponds (the holy Ganges) and later placed next to Lord Ganesha.

Some Bangalees call it 'Kolabou' (the banana-bride) and it is regarded by many as one of the wives of Lord Ganesha. But this is actually not one of Ganesha's wives. It is considered a representation of Goddess Durga.

Temples and puja mandaps are now witnessing recitation of verses from the Holy Sri Sri Chandi, blowing of conch shells and beating of traditional dhak-dhols (traditional drums), kashor since Friday and it will continue for next days until immersion of idols on the day of Bijoya Dashami on October 24.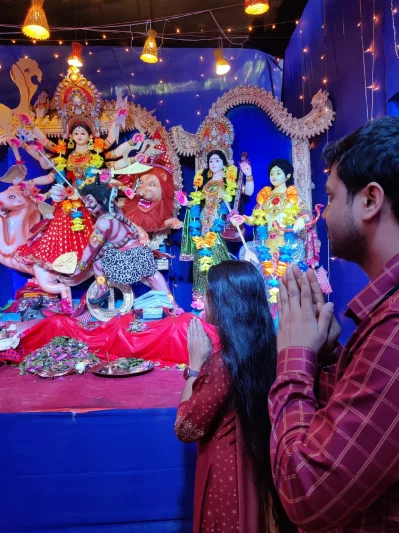 Bangalee Hindus might have a plethora of festivals (baaro maaashe tero parbon or 13 festivals in 12 months) but Durgotsab remains the queen bee.
Maha Nabami Puja will be held on the fourth day tomorrow on October 23. Dunuchi Nach takes place on that day. This is one of the most exciting rituals of the Durga Puja.
Clay pots are filled with smoking charcoal.
Some people take the pot in their hands and start dancing.
The daredevils try to balance the clay pot on their heads. Some who wish to be even more adventurous attempt to hold the pot through their teeth! Earlier the dhunuchi nach was performed only by men.
However, nowadays women are also emerging as dhunuchi dance experts.
On the final day of Bijaya Dashami, puja will be offered in the morning and Darpan Bisharjan will also be held.
In the capital Dhaka, the main puja mandaps are at Dhakeshwari National Temple, Ramkrishna Mission and Math, Kalabagan, Banani, Shakhari Bazar and Ramna Kali Mandir.
In major divisional cities including port city Chattogram,Narayanganj, Rajshahi, Khulna and Sylhet and district towns including Faridpur, Dinajpur, Jashore, Kushtia, Netrakona, Tangail, Satkhira, are also witnessing massive celebration of Durga Puja.
Durga Puja is being celebrated at 32,408 mandaps across the country this year including 245 in the capital, according to Bangladesh Puja Udjapan Parishad (BPUP).

BPUP general secretary Prof Chandranath Poddar said the country saw Durga Puja celebration at 32,168 mandaps including 241 in the capital last year.
Stringent security measures have taken across the country during the celebration of Durga Puja to avert any untoward situation.