The Turkish embassy in Bangladesh observed the 100th anniversary of the founding of the Republic of Turkiye at a hotel in the capital Dhaka Sunday night (local time) with festivity.
Bangladesh's Law minister, Anisul Huq, attended the function as the chief guest while the Turkish envoy in Dhaka, Ramis Sen, welcomed diplomats and other top professionals from different arenas at the function.
The program began with the national anthem of both countries.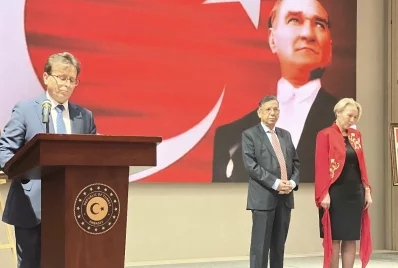 While addressing the gathering, Huq said that the relationship between Bangladesh and Turkiye in terms of bilateral trade and culture has been significantly bolstered during the regime of Prime Minister Sheikh Hasina.
He added that the bilateral trade between the two nations has crossed 1 billion dollars, and it will reach 2 billion dollars by next year.
He urged Turkish investors to come to Bangladesh to invest in the country's Especial Economic Zone.
Sen also hoped that the two nations would boost their trade volume day by day. The program was closed with traditional Turkish foods served among the participants.
On Oct. 29, 1923, founding leader of the modern Turkiye Mustafa Kemal Atatürk officially declared the name of the nation and proclaimed the country's status as a republic.