Bangladesh candidate Saima Wazed has been elected as World Health Organisation's (WHO) new regional director for South East Asia region for a five-year term beginning from 2024 in an election, defeating lone candidate from Nepal, the global health organization said in a statement today.
"Member states voted to nominate Saima Wazed during a closed meeting at the seventy-sixth session of the WHO Regional Committee for South-East Asia Region," the statement read.

Saima, incidentally the daughter of Bangladesh Prime Minister Sheikh Hasina, is known for her global campaign on mental health with extra focus on autism.

Officials familiar with the election process said in line with the practice, her nomination would be submitted to the WHO Executive Board during its 154th session, taking place on 22-27 January, 2024 in Geneva of Switzerland.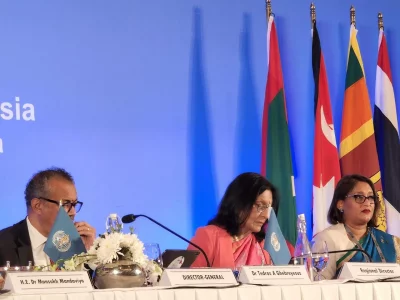 The foreign ministry said Saima was elected in a secret ballot with the participation of 10 member states of WHO regional nations including India while she bagged 8 votes and her contender Dr Shambhu Prasad Acharya of Nepal received 2.
"The newly appointed regional director will take office on 1 February 2024," the Bangladesh's foreign ministry in a statement, meanwhile, said.
Directorate General of Health Service's line director Professor Dr Md Nazmul Islam, meanwhile, called Saima's nomination as a "milestone achievement" as she is the first Bangladeshi who is set to assume the position.
"She is set to oversee the health issue of the world's one fourth population," Nazmul said, explaining that the 11 SEARO countries are the home of 1.97 billion people, while the total global population was currently was 8 billion.
He called Saima's nomination as a "milestone achievement" as she is the first Bangladeshi who is set to assume the position.
"This election with overwhelming support reflects the recognition of Saima's passion and relentless work in public health and demonstrates the confidence and trust of the region in her leadership skills," the foreign ministry, meanwhile, commented.
The DGHS spokesman said in her new capacity Saima would be able to keep a significant contribution to the entire health of Bangladesh alongside the member countries.
Nazmul said Saima could as well play a role in three areas -- women empowerment, gender parity and poverty alleviation – since these sectors were indirectly related to the health sector.
For Bangladesh, he said, these sectors were crucial for achieving different Sustainable Development Goals (SDGs).

The South East Asia Regional Organization (SEARO) is one of the six regions of WHO with its headquarters in New Delhi.

It comprises 11 countries -- Bangladesh, Bhutan, DPR Korea, India, Indonesia, Maldives, Myanmar, Nepal, Sri Lanka, Thailand and Timor Leste.

The SEARO is headed by the regional director who is nominated by the members of the SEARO countries.

Saima, who is currently completing her doctoral studies at Barry University of the United States, so far drafted three international resolutions which were subsequently adopted by member countries of the UN and WHO.
She is an advisor to the WHO director general on Mental Health and Autism since 2019 and is a member of WHO expert advisory panel on Mental Health since 2014.
She is a licensed school psychologist having worked in the public school system of Orange County and Duval County in Florida (USA) for over three years.

In August 2023, she was appointed as an associate fellow at the Global Health Program at Chatham House where she has also been serving since 2022 as a commissioner at the Commission for Universal Health.
Since 2020, she has served as Thematic Ambassador for Vulnerability for the Climate Vulnerable Forum, and from 2017 to 2019 was appointed as WHO SEARO's Goodwill Ambassador for Autism.
In Bangladesh, she is the Chief Advisor for the National Mental Health Strategic Plan 2020-2025, and since 2012 has been Chairperson of the National Advisory Committee on Autism and NDDs.
Her current academic and training work includes being Adjunct Faculty at Barry University in the USA, Visiting Faculty at Dhaka University, Visiting Specialist at Bangabandhu Sheikh Mujib Medical University Hospital, and Visiting Faculty at the National Institute of Mental Health in Dhaka.
She has been invited to speak at several high-level conferences and events around the world.
These included events at the UN General Assembly in the USA, the Commonwealth Heads of Government Meeting in Rwanda, the World Assembly of Women in Japan, COP26 and 27 in Scotland and Egypt respectively, UNESCO's High Level Roundtable in Sri Lanka, the Global Child Nutrition Forum in Cambodia, the World Economic Forum in India, the World Congress of Psychiatry in Portugal.
Over her years of service, she received a number of international awards, including a citation for Excellence in Public Health by WHO SEARO, istinguished Alumni Award by Barry University, International Champion Award by Shema Kolainu in the USA, and was listed by Columbia University as an Innovative (Women) Leader in Global Mental Health.