Global music sensation Rihanna is expecting her first child with rapper boyfriend A$AP Rocky. The singer was photographed with a baby bump while walking around New York this past weekend with her boyfriend A$AP Rocky.
In photos taken of the superstar couple, Rihanna is rocking a long pink jacket with only one button closed to reveal her belly. She is also rocking baggy ripped jeans along with a long bedazzled necklace laying over her baby bump. Meanwhile, Rocky is wearing black leather pants with matching patent leather boots with a white preppy hoodie sweater and blue denim jacket.
Celebrity photographer Miles Diggs, who goes by Diggzy, posted a close-up shot of Rihanna's baby bump on Instagram on Monday, writing "SHE IS !" Her many admirers (including fellow celebrities) sounded off excitedly in the comments.
Last November, a tweet from Portuguese outlet Rap Mais went viral after claiming that Rih was expecting. The Twitter post, translated to English, said, "Rihanna is pregnant with her first child with A$AP Rocky," said the website.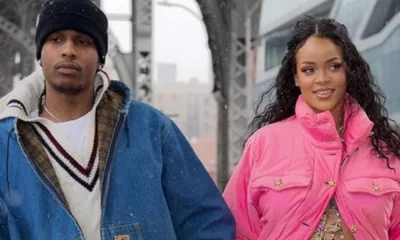 The news came shortly after Rihanna was named the 11th National Hero of Barbados. The country was also celebrating becoming a republic for the first time in its history.
Rihanna and Rocky, whose real name is Rakim Athelaston Mayers are both 33 years old. Rihanna and A$AP Rocky have been together since early 2020 but have been friends for much longer. They collabed in 2012 on a remix of Rihanna's "Cockiness (Love It)," and stayed in contact since then. They popped up at events together through the years, but it wasn't until 2020 that they started actually dating.
Following the exciting news of Rihanna's pregnancy, a number of the couple's celebrity friends and fans took to social media to share congratulatory messages.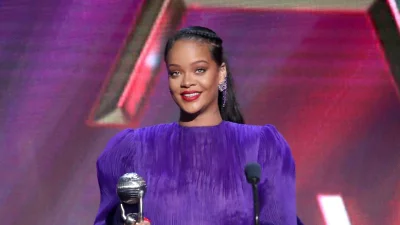 Cardi B shared the photo of the couple to her Instagram Story, and wrote "OMG!!!! Congrats @balgalriri," alongside a string of red heart emojis. You can see her post before it expires here.
Nicki Minaj also congratulated her friend "Rih" by sharing the snap of the singer as well. See her Instagram Story post here.
"She is a work of art," Camila Cabello wrote on her Instagram Story.