A couple from Tamil Nadu, India on February 6 threw their first-of-its-kind in India wedding reception on the Metaverse, an online universe of interconnected 3D virtual worlds.
Metaverse is a platform that combines various elements of technology like blockchain, augmented reality and virtual reality. People can go live here in their digital avatars and also interact with other users.
The couple Dinesh Kshatriyan and Janaganandhini Ramaswamy got married on 6 February in Sivalingapuram, a small tribal village of Tamil Nadu.
Owing to covid restrictions and closed ones residing across the world, they decided to host a digital reception. However, friends and family from across the world attended the wedding reception in the virtual world. The news is buzzing on social media as this is first of its kind in Asia.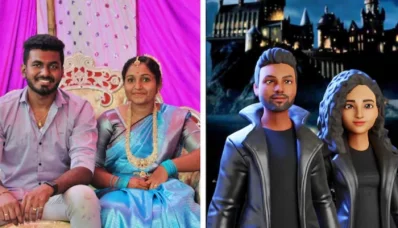 "Due to the COVID-19 pandemic, I had to cap the number of friends and family at 100 for my marriage and reception. So, I decided to solemnize my marriage in the presence of a small group of people at Sivalingapuram and hold my reception virtually on metaverse. I was also working on blockchain technology for the past one year," said Dinesh.
The couple had planned a Harry Potter's Hogwarts-themed reception since both are Harry Potter fans.
Dinesh got the idea in December 2021, right before he proposed to his fiancee, Janaganandhini. Soon after, he contacted Chennai-based web and app development start-up Quatics Technology. On listening to Dinesh's requirements, Quatics put together a team of 18 people to create the wedding venue in metaverse as well as the virtual identities of the bride and groom.
Following the announcement, GuardianLink.io, an NFT Ecosystem Technology Framework, launched the first-ever metaverse wedding NFT collection on Beyondlife.Club. The NFT collection features artwork with Harry Potter and cyberpunk-themed background and attire in addition to the classic wedding attire featuring the bride, groom, and bride's late father.