Four people, including rapper Kodak Black, were reportedly injured in a shooting outside the after-party following a Canadian singer Justin Bieber concert in Los Angeles Friday night.
According to US media outlet TMZ, up to 10 shots were fired outside WeHo near The Nice Guy, in West Hollywood, where a hots of celebrities were set to enter the building.
A party being attended by Hollywood stars like Tobey Maguire, musicians like Justin Bieber and entrepreneurs like Jeff Bezos was underway. A fight broke out, after which gunshots were fired, resulting in four persons being shot and wounded.
The celebrities had gathered for an afterparty following a Justin Bieber concert. The singer and his wife Hailey Baldwin were present at the party, near which the incident took place.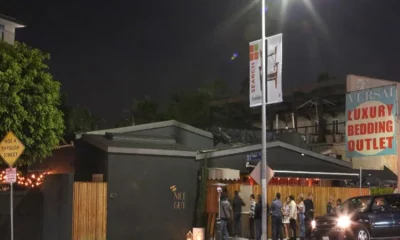 The shooting followed Bieber's Friday night performance at the Pacific Design Center, and took place outside his afterparty at The Nice Guy, where Drake, Leonardo DiCaprio, Tobey Maguire, Kendall Jenner, and Khloe Kardashian were all reportedly on the guest list. Around 2:45 a.m., Kodak Black, Gunna and Lil Baby were seen smiling outside of a vehicle, before a fight broke out and Kodak was reportedly spotted within the scuffle.
It is believed the shooters are yet to be apprehended.
Gunshots rang out shortly before 3am - as rappers including Kodak Black, Gunna and and Lil Baby were standing on the street, reports The Mirror.
TMZ says all four victims who were shot are said to be in a stable condition.
It's unknown who opened fire and who the target was, and if it was a lone gunman or multiple.
Justin and his wife Hailey were seen leaving Hollywood restaurant The Nice Guy while the shooting went on outside.
This year's Super Bowl sees an all-star line-up with Dr. Dre, Snoop Dogg, Eminem, Mary J Blige, and Kendrick Lamar headlining.
Bieber performed 10 songs at his pre-Super Bowl event, which came two days before the big game and a week before he's set to kick off his Justice World Tour in San Diego. Bieber has not publicly commented on the shooting.