Two occasions, Pahela Falgun and Valentine's Day are being celebrated simultaneously today across the country.
With the arrival of two festivals, nature is taking on a new and vibrant form that touches the hearts and minds of people of all ages.
Sales surge and Valentine's gifts is common in Bangladesh, Restaurants and hotels advertise romantic packages for couples looking for a special way to spend the day.
The whole country seems festive because of celebrating the spring as well as Valentine's Day.
Spring appears with colorful flowers, bird songs, and a gentle ray of sunshine. On the first day of Falgun, the eleventh month of the Bengali calendar and the first month of the spring season, Bangalees celebrate the spring festival.
Valentine's Day honours Saint Valentine, a Catholic clergyman who lived in Rome in the third century. However, over the years, this festival has become overly commercialised. Additionally, people make grand gestures for their partners, commemorate their love and companionship and express their feelings for each other on this day.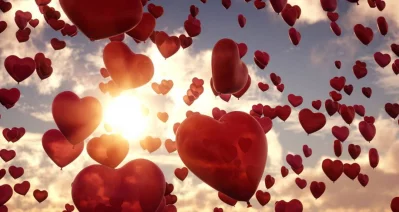 The festival-loving people of Bangladesh greet and celebrate this day with much enthusiasm, love, and color. People wear attires of yellow for Pahela Falgun and red for Valentine's Day.
Pahela Falgun, a celebration that heralds the arrival of spring, is being commemorated across the country on Monday, particularly in the capital.
Thousands of people, particularly young people, across the country will celebrate the arrival of spring by donning bright "Basanti" (yellow or orange-colored) dresses, and red color for Valentine's Day and presenting flowers and choclates to their loved one's as a token of their deep love, which will bring joy to their lives.