Ukrainian President Volodymyr Zelenskyy has found himself leading a country at war after Russia's invasion started late Wednesday night. It's a marked change for a man who less than three years ago was best known for his work as an actor, comedian and entertainment executive.
14 lesser-known facts about President Volodymyr Zelensky
1. Volodymyr Zelenskyy was born to Jewish parents on January 25, 1978, in Kryvyi Rih, then in the Ukrainian SSR.
2. His grandfather, Semyon (Simon) Ivanovych Zelenskyy, served in the Red Army (in the 57th Guards Motor Rifle Division) during World War II; Semyon's father and three brothers were killed in the Holocaust.
3. In the year 2000, the Ukrainian President graduated from Kyiv National Economic University, with a law degree. While he holds a law degree, he has never practised law and also has no political experience.
4. He founded 'The League of laughter' NGO.
5. He is married to Olena Zelenska in 2003 and has two children.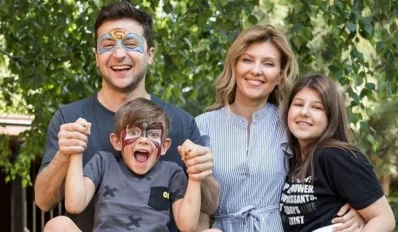 6. As a young man, he regularly participated in a competitive team comedy show on Russian TV. In 2003, he co-founded a successful TV production company named after his comedy team, Kvartal 95. Until the mid-2010s, his career in TV and films, such as Love in the Big City (2009) and Rzhevsky Versus Napoleon (2012), was his main focus.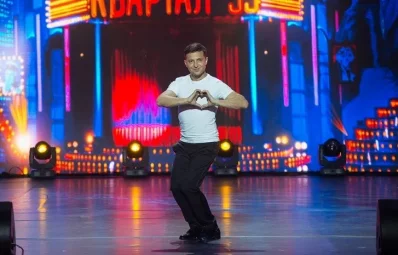 7. In 2015, Zelenskyy became the star of the television series 'Servant of the People', where he played the role of the President of Ukraine. In the series, Zelenskyy's character was a high-school history teacher in his 30s who won the presidential election after a viral video showed him ranting against government corruption in Ukraine.
8. His comedy series Svaty, In-laws, was banned for display on the territory of Ukraine in 2017. The ban was lifted in March 2019.
9. Zelenskyy announced his candidacy during a televised New Year's Eve comedy performance. In 2018, Zelenskyy abruptly moved into real politics and announced his candidacy for president under the Servant of the People party. During his campaign, he continued touring with his troupe and mocked his opponents in stand-up routines.
10. After formally registering himself with Ukraine's Central Election Commission, Zelenskyy ran an unorthodox election campaign based on comedy tours and social media, largely shunning journalists and avoiding debates.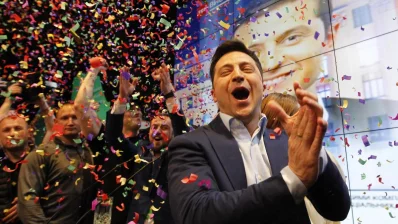 11. Zelenskyy won the presidential election in a landslide victory. He won election with 73 per cent of the vote in 2019, as Ukrainians briefly united around a political novice who seemed to offer an end to the carousel of corruption that has blighted the country since gaining independence 30 years ago.
12. During the phone call with Zelensky in July 2019, Trump asked the Ukrainian president to investigate Democrats as a "favor" right after Zelensky discussed the need for more aid from the United States. The House alleged that Trump withheld millions of dollars in military aid for Ukraine to pressure the country to announce an investigation into Trump's political rival, now-president Joe Biden. A number of Trump administration officials testified that Trump was conditioning the aid for Ukraine on Zelensky announcing an investigation into Biden, Biden's son, and other Democrats.
13. His own anti-corruption credentials became tarnished. An October release from the so-called Pandora Papers — leaked data concerning offshore shell companies — connected him and partners in his TV comedy production company, Studio Kvartal 95, to 10 entities registered in Belize, the British Virgin Islands and Cyprus. He has denied any wrongdoing.
14. Zelensky has amassed a large social media following over the years, with 10.6 million Instagram followers and 1.1 million followers on Twitter.