As Russia continues its invasion of Ukraine, several Russians have come forward to slam President Vladimir Putin for the same. According to international reports, a Russian businessman offered $1 million to any military officer who apprehended the Russian President "dead or alive".
Alex Konanykhin, an entrepreneur and former banker, posted the offer on social media and said that Putin must be caught for committing war crimes in his invasion of Ukraine. However, Konanykhin has since deleted the post and denied placing the bounty.
Alex Konanykhin took to Facebook on Wednesday to post the bounty he placed on the Russian President. As Russian troops entered day 8 of their invasion of the neighbouring country, reports claimed that Konanykhin offered to pay $1 million to any military officer who apprehended Putin. Reports also claimed that the offer was posted with a picture of Putin that had "dead or alive" over it.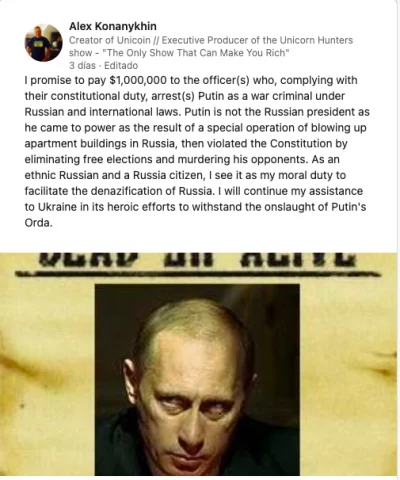 "I promise to pay $1,000,000 to the officer(s) who, complying with their constitutional duty, arrest(s) Putin as a war criminal under Russian and international laws," said crypto investor and California-based businessman Alex Konanykhin in a Facebook post on Wednesday. He further said that he would like to see Putin arrested soon and wanted to see a picture of Putin being captured after the Ukraine war.
''Putin is not the Russian president as he came to power as the result of a special operation of blowing up apartment buildings in Russia, then violated the Constitution by eliminating free elections and murdering his opponents,'' he added. He also said that as an ethnic Russian and a Russia citizen, I see it as my moral duty to facilitate the denazification of Russia. ''I will continue my assistance to Ukraine in its heroic efforts to withstand the onslaught of Putin's Orda,'' he added.
The post was accompanied by an image with a photo of Putin that read, "Wanted: Dead or alive. Vladimir Putin for mass murder."
According to a report, Konanykhin shares a rough past with the Russian government. Konanykhin, who studied at the Moscow Physics and Technical Institute, entered into several businesses, including banking, stocks and real estate.