Kate Middleton took the time to honor Ukraine in her attire at the annual Commonwealth Day Service at Westminster Abbey in London on March 14. She was joined by her husband, Prince William, father-in-law Prince Charles, and his wife, Camilla, the Duchess of Cornwall, at the service.
The Duchess of Cambridge, wore bright blue jacket with a matching hat and dress. She carried gloves and a small clutch in her hand.
Kate is wearing the diamond and sapphire drop earrings and pendant necklace designed from Princess Diana's sapphire necklace that match Kate's engagement ring.
The Duchess of Cambridge debuted the necklace when she met Ukraine's President Volodymyr Zelensky and First Lady Olena Zelenska. Wearing the jewelry today is subtle nod to support the people of Ukraine.
It is believed to have come from the late Princess Diana's personal collection and matches Diana's former sapphire engagement ring, which Kate now wears.
The sapphire-and-diamond earrings and necklace she sported were the same ones she wore to meet Ukraine's President Volodymyr Zelensky back in 2020, as eagle-eyed blogger The Court Jeweller pointed out on Twitter.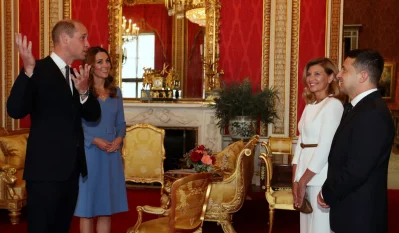 At the time, kate paired the earrings and previously unseen necklace with a cornflower blue belted dress when she and Prince William held an audience with Zelensky and his wife, Olena.
This isn't the first time Kate and William have shown their support for Ukraine. Last week, the royals visited the Ukrainian Cultural Centre in London, speaking with volunteers mounting a humanitarian effort to help those affected by Russia's invasion.
President Zelenskyy also took the time to thank the couple earlier this month after they issued a rare statement on their Twitter account in support of him and Ukraine.
Kate Middleton and Prince William issued a joint statement earlier this month. Supporting Ukraine amid the crisis, the couple wrote, "In October 2020 we had the privilege to meet President Zelenskyy and the First Lady to learn of their hope and optimism for Ukraine's future. Today we stand with the President and all of Ukraine's people as they bravely fight for that future."
Commonwealth Day is an annual event that celebrates the 54 member countries and 2.5 billion people around the world who come together to make the Commonwealth of Nations.