Bangladesh has been ranked 94th in a global list of the happiest countries, according to UN-based report.
The World Happiness Index 2022, which measures 146 countries in terms of happiness, Bangladesh has moved up six notches and has placed Bangladesh in the 94th position. The country was ranked 101st in 2021.
Bangladesh's ranking was far behind from other neighbouring countries such as India is at 136, Pakistan is at 121.
Finland has been named the world's happiest country for the fifth year in a row in an annual index sponsored by the United Nations, which again ranked Afghanistan as the happiest, followed by Lebanon.
The results were based on six key factors that support well-being: income, healthy life expectancy, social support, freedom, trust and generosity.
Serbia, Bulgaria and Romania reported the greatest increase in well-being. The biggest falls in the World Happiness Table released on Friday came in Lebanon, Venezuela and Afghanistan.
Lebanon, which is facing an economic slowdown, has slipped from last to second place in the index of 146 countries, just below Zimbabwe.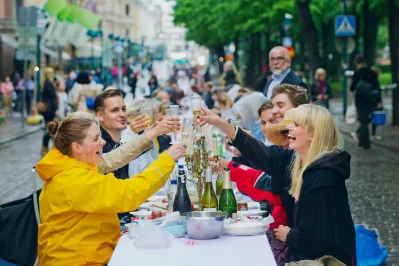 War-torn Afghanistan, already at the bottom of the table since the Taliban came to power again last August, has seen its humanitarian crisis deepen.
UN agency UNICEF estimates that one million children under the age of five could die of hunger this winter if aid is not provided.
Co-author Jan-Emmanuel de Neve said, "This (index) represents a stark reminder of the material and immaterial damage that war does to its many victims."
The World Happiness Report, now in its 10th year, is based on economic and social data, along with an assessment of people's own happiness.
It assigns a happiness score on a scale of zero to 10, based on data averaged over a three-year period. This latest version was completed before the Russian invasion of Ukraine.
The United States moved one place ahead of Britain to 16th place, while France moved up to 20th, its highest ranking ever.
This year the authors also used data from social media to compare people's sentiments before and after the COVID-19 pandemic. They found a "strong increase in anxiety and sadness" in 18 countries but a decline in feelings of anger.
"The lesson of the World Happiness Report over the years is that social support, generosity to one another, and honesty in government are vital to well-being," wrote report co-author Jeffrey Sachs.
The report raised some eyebrows when it first placed Finland at the top of its listing in 2018.
Many of the Nordic country's 5.5 million people describe themselves as silent and sad, and admit to viewing public displays of joy with skepticism.
But Finland has vast forests and lakes and the country is also known for its well-functioning public services, ubiquitous saunas, widespread belief in authority, and low levels of crime and inequality.