Pakistan People's Party (PPP) chairperson Bilawal Bhutto Zardari joined the Shehbaz Sharif cabinet on April 27 as the country's 37th foreign minister.
Bilawal is the son of assassinated former premier Benazir Bhutto and ex-president Asif Ali Zardari, and the grandson of another former premier, Zulfikar Ali Bhutto.
President Dr Arif Alvi administered the oath of office to PPP Chairman Bilawal Bhutto Zardari at a ceremony held at President's House, where Prime Minister Shehbaz Sharif was also present.
The 33-year-old has also clinched the title of youngest foreign minister in the history of Pakistan and this is the first time he will be serving as a federal cabinet member.
The charismatic politician was first elected to the National Assembly in 2018, and this will be the first time that he'll be serving as a member of the federal cabinet.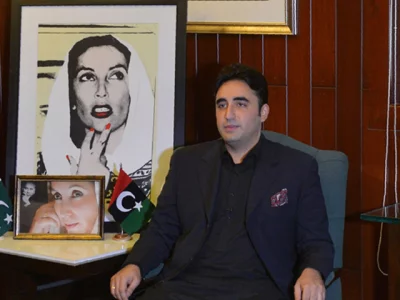 Assuming charge as the foreign minister, Bilawal was welcomed at the Foreign Office by Minister of State for Foreign Affairs Hina Rabbani Khar and Foreign Secretary Sohail Mahmood. During his visit, Bilawal interacted with senior ministry officials.
Bilawal also paid a visit to the Chinese Embassy in Islamabad. He regretted the lives lost in Tuesday's suicide attack outside the University of Karachi's (KU) Confucius Institute.
"The relationship between Pakistan and China is a series of loyalties from generation to generation.
"Terrorists made a failed attempt to strike the foundation of the Pak-China friendship," he said.
Bilawal's father Asif Ali Zardari and sister Aseefa Bhutto-Zardari also attended the oath-taking ceremony.
In a tweet, Bilawal's sister Aseefa said, "Congratulations to the youngest Foreign Minister in Pakistan's history @BBhuttoZardari. The task is daunting, and the previous government have hurt our international standing but I have no doubt that you will make our country, party, and family proud."
His sister Bakhtawar congratulated Bilawal for taking oath as the foreign minister. She also said that the PPP central executive committee decided that Bilawal would join the cabinet.
"We couldn't be more proud of him! Already outshone in parliament and always stuck to his democratic values — excited to witness this path if God wills."