Petula Dvorak, a journalist of US based newspaper The Washington Post praised Prime Minister Sheikh Hasina for her leadership role and humor.
"This woman is a force", Petula wrote.
Hasina is also a grandmother in addition to being the world's longest-serving female head of state, ruling a country with a larger population than Russia, and surviving at least 20 attempts at her life, including one particularly bloody one in which hand grenades were thrown into the crowds around her.
She spent her 76th birthday recently with her son and her 16-year-old granddaughter in USA.
Petula questioned Sheikh Hasina that how a Prime Minister could possibly have time to be a typical grandmother. "I cook for them," replied our beloved PM. "Chicken biryani … At my son's house, I have my own kitchen that's just for me," she added.
"Besides being the longest-serving female head of government in the world, leading a nation with more people than Russia and surviving at least 20 assassination attempts — including an especially bloody attack of hand grenades thrown into the crowds around her — Hasina is a grandmother. So on her 76th birthday, she celebrated with her son and her 16-year-old granddaughter, who live in a suburb just outside the nation's capital," Petula penned down in her article.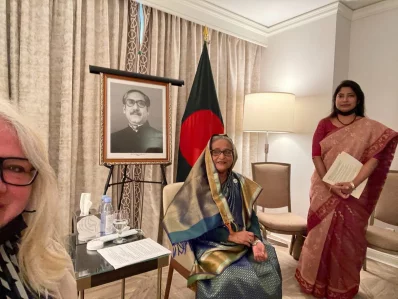 When Indian Prime Minister Narendra Modi lauded Bangladeshi Prime Minister Sheikh Hasina in 2015 during the Indian premier's state visit to Bangladesh, the hashtag #DespiteBeingAWoman was started. That sparked the creation of a popular meme and has been Sheikh Hasina's source of pride.
"I am happy that Bangladesh Prime Minister, despite being a woman, has declared zero tolerance for terrorism," Modi had said in a speech at Dhaka University.
The WP columnist asked Sheikh Hasina about it and PM Hasina chuckled "Women are better than men".
Sheikh Hasina presided over the nation for two terms. She is a versatile leader who controls a troubled, complicated country. She understands as a woman the struggles of poverty and education in Bangladesh, the challenges that most women confront, and the ways in which their immobility slows down a country's development.
"No more of these, what do you call them, huts," she said. Even if they are simple structures — brick with a corrugated steel roof — Bangladesh makes housing a human right," PM said with a positive tone.
The PM further said, "And it will be in the name of the man AND the woman," she emphasized. And then the stage whisper again: "If they split up, the woman keeps the house. NOT the man."