At least six people were killed and 40 others injured as a passenger bus turned turtle and fell on a microbus on the highway near Bangabandhu Bridge near Tangail area on Thursday noon.
The identities of the deceased could not be known immediately.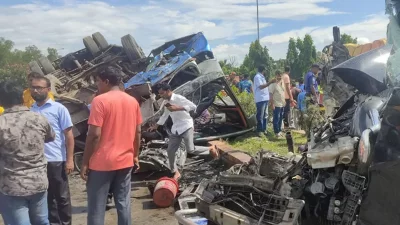 Assistant Security and Safety Manager of Bagabandhu Bridge, Md Rafiqul Islam, said, "The passenger bus lost its control as the break of the vehicle was failed near Bangabandhu Bridge in Taingail area. The bus turned turtle and fell on a microbus coming from the opposite direction in the area at 12:30pm, leaving six people dead on the spot and 40 others injured."
The injured were rescued and rushed to different hospitals, he added.