Students of Viqarunnisa Noon School and College (VNSC) of Dhanmondi branch staged demonstration on the road in Dhanmondi area on Tuesday (October 11) demanding a permanent campus for them.
The students of the institution started the protest and brought out a procession at 12:00 noon. Later, they blockaded the road in front of Anwer Khan Modern Medical College Hospital and staged a demonstration to meet their demand.
Students said that the school authority is planning to shut the campus without any prior notice. Some 1 thousand and 900 students' student life is at a risk due to this. We strongly demand for a permanent campus in Dhanmondi.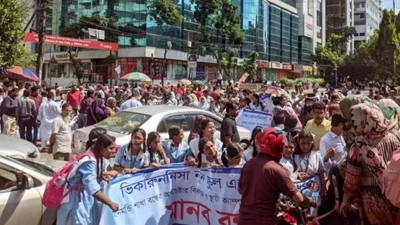 The guardians, who joined the students at the protest, said that the activities of Dhanmondi branch have been continued in a rented house. The previous principal Fowzia took initiative and made a deed to buy land for a permanent campus. However, the incumbent principal Kamrun Nahar cancelled the deed.
Showing it a loss project, the authorities concerned are planning to shut the campus, the guardians added.
They also sought kind attention of the Education Minister Dr Dipu Moni and Prime Minister Sheikh Hasina in this regard to have a solution of the ongoing problem.
Principal of Viqarunnisa Noon School and College (VNSC), Kamrun Nahar, said, "I heard that students and guardians have been protesting for a permanent campus in Dhanmondi. It is not possible to avail a permanent campus as we don't have enough funds to build one. The tenant agreement with the landlord has already been expired long ago. Now the landlord is not willing to extend the agreement further."