The people of the coastal areas of Shyamnagar in Satkhira district of the country have feared a natural disastrous damage as cyclone 'Sitrang' may hit the coastal areas with three to five feet high tidal surges.
The sky remains cloudy in the area from Sunday (October 23) morning. It was raining in a regular interval. The people of the coastal areas have faced several other cyclones including Sidr, Aila, Bulbul, Amphan and Yass.
UP Chairman of Gabura, Masudul Alam, said, "The dykes in the coastal areas are on the verge of collapse. Thousands of people will be affected if the cyclone hits hard and water rises in the area. The shrimps of the area will be washed away."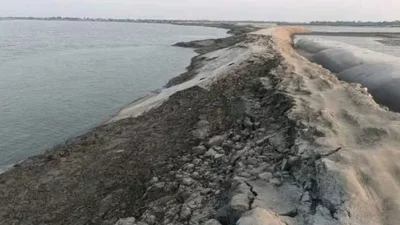 Upazila Nirbahi Officer (UNO) of Shyamnagar, M Akter Hossain, said, "We have had a meeting with the administration and local representatives after getting the forecast of the cyclone. We have discussed what to do during the storm and later on. Some 103 cyclone centers and some schools have been cleaned which can be used as shelter centers. We have assigned people to take the residents of coastal areas to safe place before the cyclone hits."
Shyamnagar Water Development Board (PAUBO) official Sazzad Hossain said, "We have repaired the unstable dykes of PAUBO in several places of the area."
According to meteorological office, after the peripheral effect of the deep depression, North Bay and adjoining coastal areas of Bangladesh are likely to be experienced of gusty/squally wind of 40-50 kph in addition to the heavy to very rainfall.
In-charge of Satkhira Met office Zulfikar Ali Ripon said, "The cyclone is feared to cross the coastal areas on Tuesday. We have already asked to hoist cautionary signal 1 in teh risky areas."
Some 200 kilometers area's dykes in some 35 points are at risk in the coastal areas of the district.