It has been raining since the wee hours of Monday in Dhaka due to cyclone Sitrang. Moreover, the stormy wind has added more misery to the city life. Many roads of the city have witnessed waterlogging on Monday and Tuesday.
Besides, the incidents of falling of trees and their branches were also reported. Visiting several spots of the capital city, it was seen that rainwater entered into many houses and shops. Many volunteers were seen moving the trees and tree branches from the roads. However, the water started to decrease as the rainfall started decreasing as well on early Tuesday.
Cyclone Sitrang hit the coastal areas of the country on Monday (October 24) evening. But, it was raining cats and dogs since Monday morning in Dhaka and other parts of the country.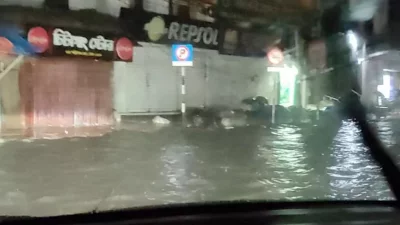 Many roads of the city especially in Green Road, Panthapath, Moghbazar, Hatirjheel, Baily Road, Kakrail, Bangshal, Nazirabazar, Sayeedabad, Mugda, Meradia and Hazaribag areas went under water due to the downpour at a stretch. The vehicular movement was also disrupted due to the waterlogging in some areas.
On Monday evening, there were traffic jams in the main areas of the city.
According to the met office, 125mm of rainfall was recorded in 24 hours till 6 pm Monday (October 24). The rainfall may continue till Tuesday afternoon due to the cyclone.
Dhaka North and South City Corporations said that they have been working relentlessly to remove the trees from the water. The workers of the city corporations have been trying to extract the water as soon as possible.