Forex coffers at lowest level in over two years, expected to shrink further.
A team from the International Monetary Fund started loan talks in Bangladesh on Wednesday as the country faces growing pressure on its foreign reserves and fears over its ability to manage its debts, reports Nikkei Asia on Wednesday (October 26).
Bangladesh is the third South Asian country to look to the IMF for support this year, after Sri Lanka and Pakistan. The fund said its team will stay until Nov. 9 "to start discussions with the Bangladeshi authorities on economic and financial reforms and policies."
"The objective is to make progress towards a staff-level agreement," it said. Local reports have said the government is seeking as much as $4.5 billion.
Bangladesh Bank Gov. Abdur Rouf Talukder, who led the nation's delegation to the just-concluded IMF-World Bank annual meeting in Washington, said the lender had responded positively regarding the loan but was asking for some reform measures.
Discussions in Dhaka started Wednesday morning, local time, with Finance Secretary Fatima Yasmin and her team meeting with the delegation led by IMF mission chief for Bangladesh Rahul Anand. The word at the Finance Ministry was that they were holding talks on treasury and debt management, the budget and macroeconomic issues.
As of Oct. 19, Bangladesh's foreign currency reserves were down to $35.98 billion, according to the central bank -- a steep drop from $48 billion in August last year and the lowest level in 28 months. The decline is being blamed on a combination of lower remittance inflows and export earnings coupled with heftier import bills due to high international prices of fuel and other essentials -- similar pressures to those that have plagued its neighbors.
The current total reserves are reported to be enough for just five months of imports. The stockpile is expected to shrink below $35 billion in November after Bangladesh meets import obligations through the Asian Clearing Union, a payment arrangement for settling intraregional transactions.
Bangladeshi Prime Minister Sheikh Hasina's energy adviser, Tawfiq-e-Elahi Chowdhury, on Sunday said there is no money to import more fuel oil for electricity generation, and thus no way to stop the power cuts that have been plaguing the country.
"It's all about foreign exchange," he said, calling for efforts to conserve electricity in the daytime in order to leave enough power for industrial and agricultural production.
Meanwhile, anxiety is growing over debt.
At the end of the fiscal year that ended in June, total outstanding foreign loans stood at $95.85 billion, up from $81.57 billion a year earlier. Of that, public-sector debt was $69.90 billion, while the private sector accounted for $25.95 billion.
The private-sector figure was up from $18.68 billion the previous year. Also notable is the growth of private debt to mainland China, which surged by 142% in a year to $2.23 billion. The amount from the next-biggest source of lending, Hong Kong, fell to $1.41 billion from $1.634 billion. Singapore, international organizations and Germany were sources of increased lending, the data shows.
The central bank has highlighted the risks posed by short-term debt, in particular. In its latest Financial Stability Report for 2021, the bank said, "Growing short-term external debt may entail higher risk due to their potentially ... being reversed in the near-term and may, thereby, create sudden pressure on foreign exchange reserves."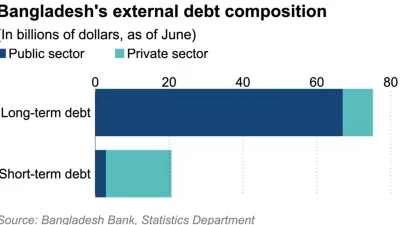 An immediate concern is $20.65 billion in short-term foreign loans, mainly taken by the private sector, according to central bank data. The repayment deadlines on many of these loans are approaching, while some have already passed but were extended due to the severe shortage of foreign currency in the country, bankers say.
"There is pressure on LC (letter of credit) repayment, but the banks are managing those by extending tenure," said Selim R.F. Hussain, chairman of the Association of Bankers Bangladesh. He acknowledged some banks are facing delays in making repayments of LC liabilities due to the forex shortage, but the central bank is helping the banks by providing dollars.
Still, amid repeated failures in repayment, many corresponding foreign banks are showing an unwillingness to open LCs for importing goods, bankers say. And concerns are building about the short-term loans creating the abrupt pressure the central bank cautioned about.
"Unless you can roll over [the debts], the reserve will face a big blow," said Zahid Hussain, former lead economist in the World Bank's Dhaka office. He added that usable forex reserves are much lower than the amount stated by the central bank, due to a calculation method that includes nonliquid assets.
Referring to IMF guidelines, Hussain said that if the ratio of short-term debt to reserves reaches 100%, a debt flag is triggered, making it harder to obtain fresh loans. "The present ratio is now between 60% to nearly 100%," depending on how the reserves are tabulated.
Ahsan Mansur, executive director at the Policy Research Institute of Bangladesh, echoed the point that short-term debts coming due soon are perilously close to the total forex reserves. "Unless we can pay in time, we have to roll over them, which the creditors do not like," said the former IMF official, noting it would be considered a "sign of financial distress."
Mansur suggested the government should be cautious in taking foreign loans and should compare the debt not to gross domestic product -- the ratio was a modest 20.6% at the end of June, according to recently released central bank data -- but rather to revenue.
"The country's foreign debt is now three times annual revenue earnings," he said, "which is alarming."