153 people have died in a crush in South Korea's capital, Seoul, with another 82 injured on Sunday.
The dead include 20 foreign nationals, emergency services say. The jam of people happened as huge crowds gathered in Itaewon - a popular nightlife area - for Halloween. Reports say the crush began in a narrow alley when people in a crowd fell over.
For many small business owners in Itaewon the weekend leading up to Halloween, when tens of thousands gather across South Korea, is a lucrative business opportunity and one that had been absent during the Covid pandemic amid the country's strict social distancing rules around Covid.
However this tragic incident means that for most, it's not the right time to embrace the opportunity.
It is Sunday evening in Itaewon, a district known for its vibrant nightlife and chic restaurants.
By this time of the day you would usually be seeing crowds of young people heading out to their favourite spots and tourists from home and abroad lining one of Itaewon's many narrow alleys - the neighbourhood was featured in the popular Netflix drama, Itaewon Class.
Today however there are police outside Itaewon subway station - rare in a country that prides itself on public safety. Itaewon's main road is completely sealed off.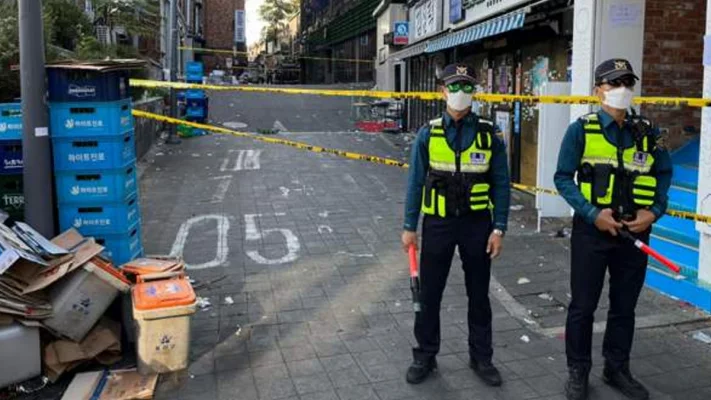 Small restaurants, cafes and clothing shops, always eager to open on a sunny day like this one, are closed.
A man who runs a tailor shop right across from the site of the tragedy has kept his store open today.
He doesn't wish to be named, but tells me that although he didn't witness what happened last night he felt the need to open today. He says that he feels being at the site is one way to send his condolences to the young people who lost their lives.
A local female resident says she was shocked at the sight of body bags lining the street.
She said she came out after seeing news alert that there had been two confirmed victims - and saw that many more people had died.
People here are finding it hard to grapple with the enormity of the tragedy.
Halloween may have originated centuries ago as a pagan tradition in Europe, but today it is celebrated around the world, including in South Korea.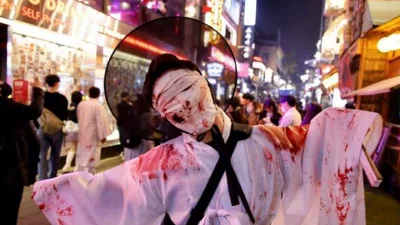 America's cultural influence has driven its global popularity, especially in recent decades, with the introduction of pumpkin carving and trick-or-treating.
Hollywood, TV shows and sitcoms on streaming platforms that are aired around the globe have long featured it as a plot point.
In South Korea, Halloween is a relatively new holiday, and no doubt an import of American culture, which is popular in the country. While trick-or-treating is not common, and houses are not typically covered in spooky décor, the celebration is popular among young people.
Each year it's common for people to dress up in Halloween-style costumes and head out to bars or clubs to celebrate.
In Seoul, many of those venues are located in Itaewon, a nightlife hub in the very heart of the capital - and that's where Saturday's deadly crush happened.