Test run of a train was conducted from Faridpur's Bhanga station to Padma Bridge under the Padma Bridge Rail Link Project on Tuesday (November 1) morning.
Station Master of Bhanga Railway Station M Shahjahan confirmed the matter to the media.
The train made a 32-kilometer journey to reach to the viaduct crossing Padma Station. It took 45 minutes to reach there. The train is at the viaduct now.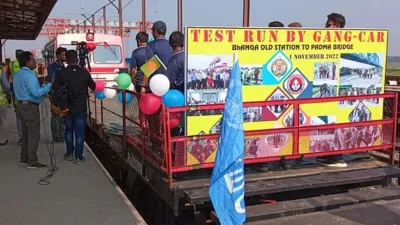 Bhanga Railway Station sources said, "The train is built in a special shape known as Gang-Car."
The rail service from Dhaka to Bhanga is likely to be officially inaugurated on June 25 in 2023.