Sustainable economic growth is often defined as the growth of an economy that can be achieved without putting the future in jeopardy. In other words, the rate at which a country's economy can grow without running into problems. According to the World Bank, development must be both inclusive and ecologically sound in order to reduce (if not eradicate) poverty and promote shared prosperity for today's population while meeting the demands of future generations at the same time. It is resource-efficient and meticulously constructed to provide both immediate and long-term advantages. Economic growth, environmental stewardship, and social inclusion are the three pillars of sustainable development that apply to all areas of development, from cities confronting fast urbanization to agriculture, infrastructure, energy development and usage, water availability, and transportation. One may argue at this point, what role can a professional accountant play in order to promote, support and help achieve sustainable economic growth in a country. We will try to answer that in this article.
At first, it is imperative that we understand the meaning of the term "Professional Accountant". According to International Federation of Accountants (IFAC), "A professional accountant is a person who has expertise in the field of accountancy, achieved through formal education and practical experience, and who demonstrates and maintains competence, complies with a code of ethics, is held to a high professional standard, and, is subject to enforcement by a professional accountancy organization or other regulatory mechanism".In the post-independent period, Institute of Chartered Accountants of Bangladesh (ICAB) was established under the Bangladesh Chartered Accountants Order, 1973 for the purpose of educating and regulating statutory financial auditing in Bangladesh. Afterwards, Institute of Cost and Management Accountants of Bangladesh (ICMAB), second management accounting professional body of the country, was established in 1977 under the 'Cost and Management Accounting Ordinance, 1977' (which is replaced by The Cost and Management Accountants Act 2018) to regulate and expedite cost and management auditing and accounting practices in Bangladesh. Since then, these two statutory national professional accounting bodies have served as autonomous entities under the Ministry of Commerce, Government of Bangladesh, to create highly competent accounting professionals and maintain high quality in professional accounting activities in Bangladesh.
Asthe definition of professional accountants stated above, it is understandable that every professional accountant must have relevant expertise and experiences which generally comes through education and research. Moreover, the maintenance of competence requires continuous professional developments through participation in national and international training, events, seminars, symposiums, and other activities. Maintenance of compliance with the code of ethics require both moral and behavioral aspects of adherence to rules and policies. All these activities have direct and indirect effects on sustainability of economic growth of a country. Today, we will look at it under the lens of the quality of accounting statements.
A quality accounting statement is a prerequisite to its appropriate applicability.As GIGO theory suggests, garbage inside the statement will only produce garbage outputs in terms of subsequent decisions taken based on a garbage statement. We all know about window dressing and cooking the book. A professional accountant, who follows the code of ethics and possesses the required competence, will never deviate from standards to produce a cooked book. The effects of producing poor quality accounting statements are simple. Debt decisions, equity investments, suppliers' decision to sell products on credit, credit rating, taxation, etc. are dependent on the statements those are prepared by the accountants of a firm and the subsequent audit report presented by the auditors concerned. If the professional accountants performing these activities deviate from standard, false impression of the company will be projected to all the users of these statements and will result in poor debt decisions by debt providers (e.g. banks), equity investors, and other parties involved in the organization resulting in misappropriation of funds. If such an event accumulates in an economy, bad debts and Non-Performing loans (NPL) will rise, banks will become weaker, budget deficit and foreign debts of the economy will significantly rise to bail out the problematic banks, inflation will magnify as the groups of people involved in the process of preparing and using a cooked book to grab public funds will take out money from this economy and channel them abroad (as seen in many previous cases in Bangladesh) putting the sustainability of the economy in question. Similarly, cost of funds for the banks will rise, degree of risk aversion of the investors (both banks and equity investors) will increase pushing up the required return and pulling down stock prices of all listed firms, availability of supplies on credit will cease to exist reducing a manufacturer's ability to produce products at full capacity and forcing them to keep higher cash and cash equivalents capping profitability questioning growth and sustainability of firms concerned. Moreover, local firms will also lose competitiveness with their foreign counterparts reducing future growth of exports and sustainability of export markets as well.Laps in judgements and poor moral stance of a professional accountant may lead to disastrous outcome on any economy from a sustainability dimension. Therefore, the strong institutional monitoring is also essential. More importantly, absence of professional accountants in firms certainly creates greater opportunities for producing wrong and poor-quality accounting statements making the situation even worse. The opposite is true in case of appropriate professional practices of a professional accountants.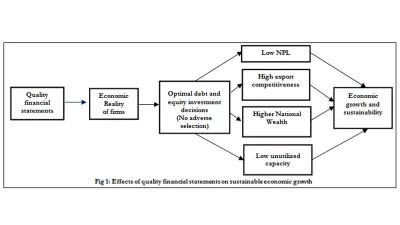 As the figure 1 shows, if the standards, as mentioned in definition of professional accountants, are held firm by any practicing professional accountant, quality of accounting statements will be better leading to true evaluation of firms, effective debt and equity investment decisions, improved credibility of firms consequently enhancing competitive capabilities, capacity utilization, greater value addition, lower bad loans, improved and sustainable economic growth. This explanation also implies that the professional accountants are performing a major role both inside and outside an organization(from the context of an individual firm) in maintaining the sanctity of financial statements as both a preparer (as a controller and/or CFO) and an auditor catalyzing sustainable economic growth of a nation (if integrated). This dual role of professional accountants and their presence in a single firm's business environment can be described as follows (figure 2):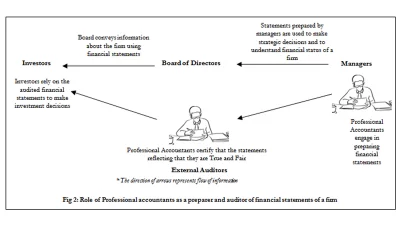 Professional accountants are now moving beyond the traditionalapproach of accounting practices towards ensuring better environmental, social and governance achievements with the ultimate objective of attaining greater sustainability. Their strategic role in ensuring transparency of all aspects of organizations has a very critical role to build trust among different stakeholders which, in turn, can smoothen resource flows in economy and enhances effective utilization of resources. Therefore, people, profit and planet are being constantly looked after by professional accountants boosting sustainability for not only any economy rather the entire world.
Dr. Syed A. Mamun, FCMA, is the CEO of The Bangladesh Rating Agency Limited (BDRAL), a subsidiary of Dun and Bradstreet South Asia Middle East Ltd.
&
Md. Kamrul Bari, AFA, is the First Assistant Vice President of the Advisory, Research, and Training (ART) unit of BDRAL.