People are bearing the brunt of the indefinite strike enforced by transport owners in all eight districts of Rajshahi division from Thursday (December 1) to press home their 10-point demand.
No passenger buses left or entered Rajshahi on the day.
Finding no other way, commuters had to hire three-wheeler vehicles to go to their destinations. They were charged extra fare. Moreover, extra pressure of passengers was seen at the trains. Many people could not go to their office on time due to the transport crisis.
Many people were seen going back to their houses as they did not get buses. Many people were seen rushing to Rajshahi railway station.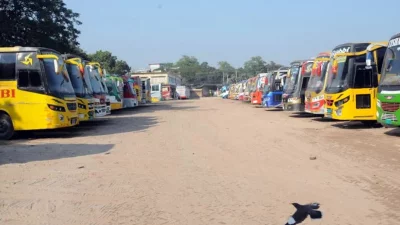 BNP's local and central leaders alleged that the government-backed transport owners and workers called the transport strike to discourage the people to join their divisional rally on December 3.
Witnesses said that many people were moving from one place to another by CNG-run auto-rickshaw, human hauler and microbuses with extra fare. People had to suffer a lot, they added.
General Secretary of Rajshahi Road Transport Group Motiul Haque Titu said, "We had some issues for a long time. We have willingly called the strike as our demands were not met."
"There is no relation of our strike with the rally of BNP. We have called the strike to meet our demands. The indefinite strike will be continued until our demands are met" he added.