Prime Minister of the country and also Awami League president Sheikh Hasina on Sunday said that rumor-mongers are spreading rumors over the reserves of Bangladesh. She urged the countrymen not to pay heed to any rumors.
She said that we have spent the money from the reserves for the betterment of the country and its people.
Sheikh Hasina also said, "We have ensured free corona vaccines for all. Moreover, we have provided food to the poor people across the country. We also gave cash aid to them."
The prime minister came up with the assertion while speaking at a public rally in Chattogram on Sunday (December 4).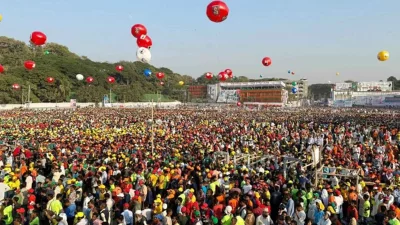 She said, "We work for the development of the country. On the other hand, BNP kills people. BNP men exploded bombs and grenade for several times in Chattogram. BNP does not want the peace of the people."
Sheikh Hasina also said, "Khaleda Zia and her cohorts can kill people. Awami League believes in peace. So, people can lead a peaceful life when Awami League comes to power."