Prime Minister Sheikh Hasina today (December 12) said her government is working to transform the country into "Smart Bangladesh" from a digital one by 2041.
"We will build Bangladesh as a developed and prosperous country by 2041. That Bangladesh will be a Smart Bangladesh. We will transform into Smart Bangladesh from the digital one," she said, reports BSS.

The premier said her government is working to successfully implement the four bases of building "Smart Bangladesh" that included making smart citizens, smart economy, smart government and smart society.

In the Smart Bangladesh, everything will be done through technology where the citizens will be efficient in using technology and the entire economy will be run through technology, she said.
She added that a huge task has already been done to make the government as well as the society as smart.

Describing the young generation as soldiers of transforming Bangladesh into a developed and prosperous country by 2041, she said, "You (youths) will have to prepare yourselves as smart citizens being soldiers of 2041."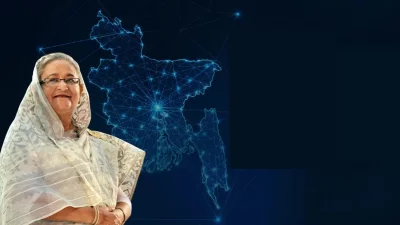 The prime minister said this while addressing a programme as the chief guest marking the Digital Bangladesh Dibos-2022 and distributing prizes among the winners of the online quiz competition and Digital Bangladesh Puruskar (award)-2022.

At the programme, she also inaugurated the Bangabandhu Sheikh Mujib High-Tech Park in Rajshahi, having Joy Silicon Tower, Bangabandhu Digital Museum and a Cineplex and Sheikh Kamal Information Communication Training and Incubation Centre in Barishal district.

The Information and Communication Technology Division organised the function at the Bangabandhu International Conference Centre (BICC) in the capital city with the theme "Advanced Technology, Inclusive Development."

The prime minister also unveiled the cover of digital and print versions of two books on Sheikh Kamal and Digital Bangladesh.

State Minister for Information and Communication Technology Zunaid Ahmed Palak and Chairman of the Parliamentary Standing Committee on Posts, Telecommunications and Information Technology Affairs Ministry AKM Rahmatullah spoke at the function.

Senior Secretary of Information and Communication Technology Division NM Zeaul Alam gave the address of welcome.

Theme song of the Digital Bangladesh Dibos-2022, marking 14 years of building a digital Bangladesh, was also screened alongside broadcasting an audio visual documentary on Digital Bangladesh.

On 12 December 2008, Sheikh Hasina made the announcement of the initiative to build a digital Bangladesh as the main premise of "Vision 2021."