The amazing road of Bangladesh to become a development miracle has been pretty remarkable. The country, which gained independence from Pakistan in 1971, began with a GDP of only USD 9 billion, a 5.48% decrease from its 1970s identity as East Pakistan, and a national budget of only BDT 7.86 billion.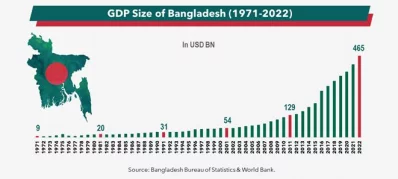 The 148,460 square kilometers (57,320 sq mi) of lands was the home to at least seventy-fivemillion people(in 1971) making it amongst the most densely populated countries in the world. Poverty, which was a result of the political, economic, and social discriminations of the then West Pakistani regime, was around 80%. It is difficult to provide for such a large people who are all individually unable to feed themselves owing to poverty in a country with such a tiny GDP, national budget, and geographical area. Most believed that the nation will inevitably fall and meet its doom soon. Who could offer a different opinion?
However, the exemplary resilience of the people of this country saw her off from unbearable misery. Arduous work, dedication, talents, and courage to fight against all odds are the major traits of this nation which finally pulled Bangladesh up from her marginal existence andput her on the world map as the next Asian tiger with endless growth potential.Enabling policies, able leadership at both private and the public sectors, continuous improvements in national productivity, democracy, and gradual improvements in risk tolerance among the entrepreneurs have been the outcome of the national traits as mentioned earlier and resulted in making Bangladesh the 41st largest economy in 2021. Poverty rate came down to only 20% (a 60% reduction in 50 years), GDP has grown to fifty-two times to reach USD 465 Billion, population growth rate came down to half from 2% to 1% restraining the overall population count to just 166 million,and national budget became BDT 6,781 (app.) Billion or 863 times of its 1971's value.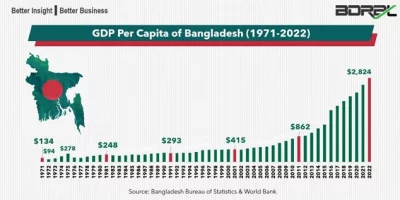 Bangladesh's GDP growth rate was -5.5% when it began its journey as a free nation in 1971, but things quickly turned around. In just three years after independence, the war-torn nation's GDP growth rate increased to 9.59%. In fact, this was the nation's fastest-ever GDP growth rate. The consistency of GDP growth rate of the country is enviable. Bangladesh has already reached its desired GDP growth rate of 7.25 percent last year (according to BBS data). Motivated by this, the government has set a challenging goal of 7.50% GDP growth for the forthcoming Fiscal Year 2022–2023. Despite tremendous forthcoming hurdles of world economy in the days to come, it is expected that the actual GDP growth is not likely to be below 6% (As projections show). Utterly amazing!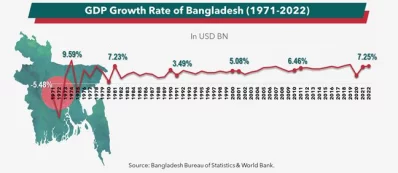 Enabling policies, need for efficient and fruitful infrastructural projects, special focus on education, growing healthcare requirements of the people, incentivization of agricultural sectors to ensure food security, motivating import substitutions, adaopting innovation and adapting to technological advancements, and more importantly ebnsuring sufficient social safety call for fiscal investments pushing the budget of the nation to BDT 6.781 Trillion. Growth in per capita GDP was likewise exceptional. According to figures from the Bangladesh Bureau of Statistics (BBS) and The World Bank, Bangladesh's per capita GDP increased 21 times from USD 134 to USD 2,824. Bangladesh's progress on this front was so significant that the country event surpassed India last year.
Who could have guessed that such an achievement is possible within just 50 years? Who would believe that a country can become an example for the world in terms of her enviable economic success despite starting with almost nothing? Fascinating! Isn't it?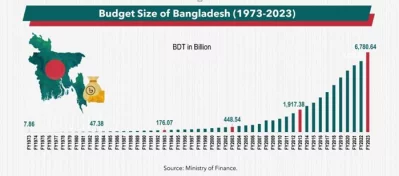 However, it is crucial to become more careful, particularly, considering the impending global crisis, which is expected to evaluate our fortitude by putting us through a rough patch. We will certainly endure. Despite all the odds, we shall grow and prevail with tough fight. This time, driven by the spirit of independence, attempt to provide economic freedom to all citizens, especially to those who are living in poverty needs to be widen and expedited for socio economic sustainability of Bangladesh.
*Dr. Syed A. Mamun, FCMA is the CEO of Bangladesh Rating Agency Limited (BDRAL), a subsidiary of Dun and Bradstreet South Asia Middle East. He is also the Chairman of Dhaka Branch Council at ICMAB.
** Md. Kamrul Bari, MIPA,is the First Assistant Vice President of the Advisory, Research, and Training (ART) unit at BDRAL and Doctoral Candidate at the Institute of Business Administration, University of Dhaka.
*** Samira Sohani is a Research Associate at BDRAL.