Severe cold condition with dense fog continues in several parts of the country including the capital Dhaka. The people of four districts have been experiencing bone-chilling cold due to cool wind and fog in the country.
The air condition of the capital city is getting worse and unhealthy due to the fog and cold weather. The normal life of the people is being disrupted. Moreover, cold, flu, fever and cold-related diseases have been increasing in recent times.
The minimum temperature of the country on Wednesday (January 4) was recorded by 09.0 degree celsius at Srimangal. The previous day it was 8.5 degree celsius, which was recorded in Srimangal as well.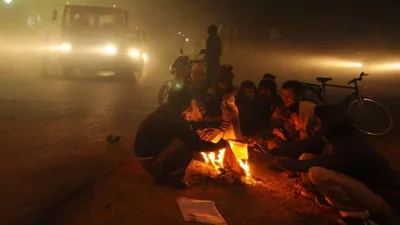 According to the met office, if the temperature is below 10 degree celsius, it will be considered cold wave. The temperature in Sylhet is near to moderate cold wave.
A day laborer in Srimangal, M Delowar, said, "The weather in Srimangal is always very cold during the winter season. We live hand to mouth. I could not go out to search work due to excessive fog and cold weather."
The vehicular movement in many places has been slowed down due to heavy fog. Many transports were seen moving switching the headlight on.
The ferry movement in between Paturia and Daulatdia in the Padma has been disrupted. The passengers were suffering a lot due to the disruption.
The people of Sylhet, Srimangal, Nogaon, Jashore and Chuadanga have been experiencing a moderate cold wave for last few days.
Health expert Dr Monir Hossain said, "We are having patients with flu, fever, cough, asthma and other cold-related diseases due to the cold weather. We are trying to treat the patients with our capacity."
According to the met office, the cold weather may linger for several days more.