At the Kashmir International Conference Center, Jammu and Kashmir hosted the first-ever international conference on Sufism, which was attended by religious experts from around the globe and intellectuals from every nook and corner. Voice for Peace and Justice, a prominent NGO, organised the conference on January 5.
The conference was organised for the benefit of global community. It attempted to reconnect Kashmiri & Indian culture with the international community through the spiritual message Indian Sufis were known for. The conference was well attended by people from all walks of life from Sufis to academia, theologists, policymakers, international issues experts and Islamic scholars from more than nine countries including Germany, Turkey, France, Turkey, Tanzania, Maldives, Sri Lanka, Bangladesh and Nepal. The scholars of Hinduism, Sikhism and other religions from different states also attended the conference, said a press release.
"It is a pleasure for us to conduct this kind of conference in Kashmir," said Shehreyar Dar, senior vice president of Voice for Peace and Justice, in welcoming the guests of the international repute.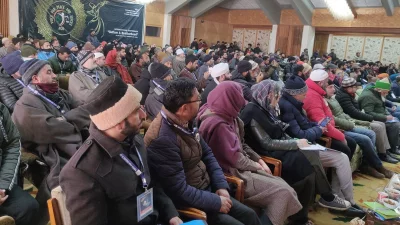 The conference, according to the deputy vice chancellor of the Islamic University of the Republic of the Maldives, who spoke at the event, gave a message to the world that respect for humanity is important in the modern world and that all people should live in harmony and with respect for one another.
In his speech, Syed Tayabul Bashar, a Sufi leader from the People's Republic of Bangladesh, stated, "It was my first visit to Kashmir, and I am impressed that people in Kashmir are so welcoming."
He also said that there is a greater need today to save and serve humanity and what better way than to promote Suifism which is peace tolerance and unity amongst people and that this message should be passed on to future generations as Muslims, we strongly oppose any sort of radicalism and extremist, this evil forces should be fought unitedly to safeguard the next generations and humanity as a whole. Sufism should be promoted in education systems in policies with importance towards youth. The message of Sufism is one of peace, security, love, tolerance, and service, he added.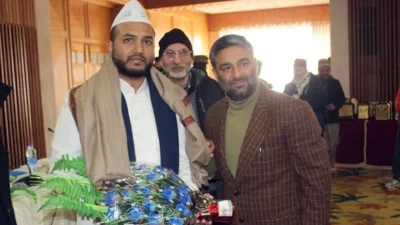 Grand Muft of Nepal, Mufti Mohamad Usman Sufi, said, "The self-serving evil forces with vested interests push extremism to divide and to cause communal unrest in order to fulfill their selfish ambitions."
Sufism, according to the grand mufti of Dar Al- Salam, Tanzania, Shri Shekh Al-Alhad Moosa Salim, is the sole path to future peace, communal harmony, and brotherhood. The divisive forces of today are attempting to sow discord among the communities, but we must band together in order to create a global village and disseminate a message of harmony, peace, and love.
In his speech, the Grand Mufti of J&K, Mufti Nasir-ul-Islam, thanked all the dignitaries from around the world for coming to Kashmir for the conference and praised Voice for Peace and Justice's efforts.
He said the organization must continue organising such kind of conferences to foster intercultural understanding and respect for the religious beliefs of all the communities.
"My heart aches for every single target killing of Kashmiri Pandits in Kashmir," he added.
He appealed for Kashmiri Pandits to return to Kashmir in order to restore the prosperous era of intercommunal harmony.
The head of the Karwani-Islami International, Maulana Ghulam Rasool Hami, stated that India has been the home of mystics of all faiths, including the Rishis, Sufis, and Saints of Buddhism, Jainism, and Sikhism. In actuality, unity in variety is the fundamental tenet of Indian culture and spirituality. He requested people to practise patience, temperance, and fraternity and love among themselves as well as to develop mutual understanding.
In his address, the event's chief guest, Turkish Sufi Master Sheikh Esraf Efendi, commended the Voice for Peace and Justice Organization for hosting such an international conference in Kashmir, the Sufi homeland.
He claimed that India is a multilingual, multicultural, and multi-religious land.
He said, "Fanaticism is encouraged by self-serving, malevolent powers with vested interests that want to split society apart and sow discord among the people. However, interfaith conversation offers a forum for believers from all faiths to interact, clear up any confusion, advance interreligious understanding, and forge new relationships. He encouraged people of many religious backgrounds to collaborate in order to advance peace, communal harmony, and fraternity and thereby make the world a better place to live."
"Every single person has been created by Allah, who has control over their fate. As such, we humans have no right to disparage, harm, or kill anyone. Instead, we are obligated to treat everyone equally and to respect all religions," he added.
We want to take an oath to work as a global family with the objectives of Peace, Harmony and coexistence, the basic principles of Sufism, said Farooq Ganderbali, a well-known social activist and the president of Voice for Peace and Justice, in his vote of thanks to the chief guest, Sheikh Esraf Efendi, and all the guests of global forums who attended the conference.
The Voice for Peace and Justice Organization seeks to revive Sufism and its teachings in Kashmir in order to restore the old tradition of coexistence, communal harmony, brotherhood, peace, and love to the land of Kashmir. He continued by saying that divisive forces constantly attempted to carry out their nefarious agenda to divide people on the basis of religion, which paved the way for the decades-long terrorism, bloodshed, and violence in Kashmir.
Sufi literature and practices should be taught in schools and madrassas, according to recommendations and resolutions made by the Voice for Peace and Justice.
In order to promote Sufi literature, Sufi culture, and Sufi music, they also advocated for the establishment of Sufi centres throughout all of Jammu and Kashmir.
Abdul Shaqir Bermpohl from France , Ibrahim Schultze from Germany , Syed Tayabul Bashar from Bangladesh , Abdul Azeez Mohammed Nazardeen from Srilanka , Mufti Mohammad Usman Grand Mufti Napel , Saudullah Ali from Maldives , Shekh Al-Had Moosa Salim Grand Mufti of Tanzania , Ahmad Cline from Switzerland , Ghulam Rasool from Delhi , Dr Tawseef Ahmad ,Director Sayed Hassan Mantaqi research academy, Prof Manzoor Ahmad Tantary , Prof Fayaz Ahmad Nika , Shia Leader Syed Nazeer Hussain , Mohammad Sadiq from UT of Ladakh, Mohammad Jabreel from Bihar, Shia LeaderHujatul Islam Aga Syed Abid Hussain , Prof Shahid Rasool , Prof Bashir Ahmad , Satinder Singh Secretary Gurdwara Parbandhaq Committee ,Satish Mahaldar President J&K Peace Forum , Prof Mohammad Afzal from UP , Syed Qameriudin from Ajmer Sharef Rajistan , Rouf-ul-Rasool Naqashibandi from Nazimudin Delhi , Ajaz Kawoosi, General Secretary of Voice for Peace and Justice, Zeeshan Farooq Dar, President Utthaan Mission Trust, Samiyaz Sofi, Ghulam Nabi Dar, Sheikh Javid Naqishbandi Parton All India Tanzeem-ul-Ama-e- Islam Delhi and Prof Mushtaq Ahmad Dar were other dignitaries present on the occasion.
The Conference concluded with prayers for Peace, Harmony, and Unity across India and the world. The Dua-e-Roshni ceremony was also observed by all the delegations.