The Election Commission (EC) has expressed its concern over slow voting of EVM at Rangpur City Corporation polls.
Chief Election Commissioner (CEC) Kazi Habibul Awal said, "We are trying to overcome it as much as possible."
The CEC came up with the assertion while speaking to journalists and observers after a meeting at the Election Commission building at Agargaon in the capital on Wednesday (January 11).
The voting of EVM was slow in the Rangpur City Corporation polls on December 27. The voting was supposed to end at 4:30pm but it ended at 8:30pm due to slow voting of EVM. The meeting was actually held to get the feedback and experience from the local journalists.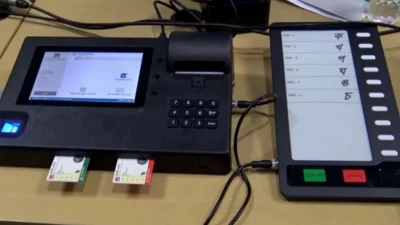 Regarding the slow voting of EVM the CEC said, "Sometimes the fingerprints were not matching. However, we didn't get any such issues earlier. We are concerned over the matter."
Kazi Habibul Awal also said, "The recent Rangpur city corporation election was fair, free and participatory. But, there were some allegations including slow voting of EVM. We have talked to the observers and media people over the matter. We will also take a feedback from our election officers in this regard."