Some of the world's biggest clothing retailers are offsetting surging costs for raw materials by squeezing their suppliers in Bangladesh, the world's second-largest exporter of clothes, a new study by a group of British researchers alleges.
The report, based on interviews with 1,000 Bangladeshi clothing manufacturers, states that about 70 per cent of the brands sourcing from these factories were paying suppliers about the same as before the pandemic, suggesting they have done little or nothing to help their suppliers offset surging costs of raw materials over the past couple of years, nor the burden of guarding against outbreaks of COVID-19.
No Canadian retailer was named in the study. Still, new allegations of how Bangladeshi garment workers are exploited by international clothing brands could resurface questions about the outsourcing practices of Canadian companies, reports Financial Post.
"It would come as no surprise that Canadian brands also have not increased prices for the garments they buy," said Doug Olthuis, head of global affairs at the Canadian office of the United Steelworkers union (USW). "Workers employed in these factories suffer, as factory owners are unable to pay living wages."
In November, the USW filed a complaint with the Canadian government over allegations that Canadian Tire Corp. Ltd. was refusing to pay a living wage to the thousands of workers in the Bangladeshi factories that make clothes the retailer sells under its Denver Hayes, Dakota, WindRiver and Helly Hansen labels.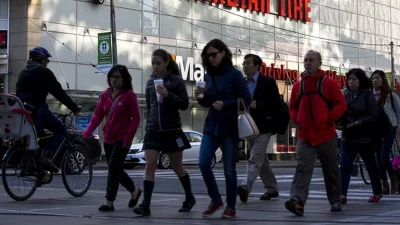 Canadian Tire denied the allegations, insisting that it follows the local law and that it regularly tracks what its suppliers pay their workers. Canadian Tire didn't respond to questions about the nature of its relationship with suppliers, nor did Aritzia Inc. or Lululemon Athletica Inc., two of Canada's leading clothing retailers.
'A sign of exploitation'
The new study's lead author, Muhammad Azizul, said that when suppliers are underpaid, workers are the ones who are impacted. He said that the number of workers employed in the factories that participated in the study after the pandemic was about 10 per cent lower than pre-COVID levels in 2020 despite a rise in clothing exports from Bangladesh.
"This means that the existing workers have had to work a lot," said Azizul, a professor at the University of Aberdeen Business School. "This could be a sign of exploitation."
Activists in the United Kingdom are pushing for the government to create a fashion watchdog that would ensure that any brand that has stores in the country is monitored to make sure it isn't involved in such practices. "This kind of mechanism could be useful in Canada," said Azizul, noting that some of the big international brands that are mentioned in the report sell in Canada.
H & M Hennes & Mauritz AB, Inditex SA's Zara, Walmart Inc. and Gap Inc. were among the large international retailers that were named in the report. None responded to requests for comment.
Olthuis said his union would support actions that raised workers' wages. But rather than creating a watchdog, he said Canada's government should work on passing Bill C-262, which would require businesses to tackle human rights violations linked to their activities abroad, instead of creating a new "fashion watchdog."
The Industry Department said in an emailed statement that it remained "committed to introducing legislation to eradicate forced labour in Canadian supply chains and to ensuring that Canadian businesses operating abroad are not contributing to human rights abuses."
It added that it was monitoring "signs of strain" in supply chains as economies recover from the pandemic.
Consumers 'not really aware'
Azizul explored how the shutting down of clothing shops in the West during the pandemic in 2020 impacted manufacturers and workers in Bangladesh, which trails only China as a clothing exporter, despite being about 65 times smaller than the Asian giant.
Bangladesh employs about four million workers, who are mostly women, according to the report.
Of the 1,138 brands named by the 1,000 suppliers in the study, factories said that 25 per cent cancelled their orders, 19 per cent paid less than originally agreed, 10 per cent refused to pay for the goods that were produced, and 24 per cent delayed their payments by more than three months during the initial months of the pandemic in 2020.
The behaviour of the larger brands was worse, the report said. Out of the 78 brands that bought clothes from at least four factories, 86 per cent cancelled their orders, 85 per cent reduced their prices compared with the original contract, 50 per cent refused to pay, and 85 per cent of the brands delayed their payments by more than three months.
In total, Bangladesh's clothing industry faced deferrals and cancellations worth about US$3.7 billion in export orders by June 2020, according to the study, most of which were destined for Europe and North America. This in turn led to thousands of workers losing their jobs during the pandemic.
According to Ethical Trading Initiative, a British alliance of companies, trade unions and non-profits whose members include brands such as H&M and Primark Stores Ltd., the "unfair practices" mentioned in the study weren't new.
"There is a need for greater accountability in the apparel and textile sector and suppliers deserve a stronger voice but looking at the detail of any accountability mechanism is very important," said Peter McAllister, ETI's executive director.
Azizul said he hopes the report makes consumers in Canada and other Western nations more aware about the evils in the global clothing supply chain.
"Consumers are not really aware of unethical behaviour," he said. "The way global retailers work, campaign and advertise, the real message is somehow missed."