A devastating fire broke out at a factory in EPZ area of Mongla on Tuesday (January 31) afternoon.
Locals said that a fire originated at the VIP-1 factory in EPZ area of Mongla at 3:00pm. No casualty was reported immediately. However, the workers of the factory got panicked due to the fire.
Executive Director of Mongla EPZ Mahbub Ahmmed Siddique said, "The fire originated at the factory in the afternoon. There were fabrics at the factory. The workers of the factory came out of the factory hurriedly after the fire incident. The reason behind the fire could not be known immediately. An investigation committee will be formed in this incident."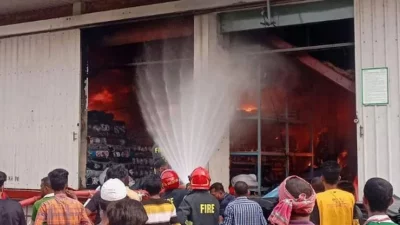 Senior Station Officer of Mongla Fire Service Arbesh Ali said, "Seven units of firefighters rushed to the spot at around 3:30pm to douse the fire. The fire might have originated from short-circuit."
Mizanur Rahman, an officer of VIP company, said, "None was injured in the incident. The valuable goods of the factory was burnt due to the fire."