Romania's female tourist Elena, who visited 29 countries by motorcycle, came to Satkhira two days ago. She is now staying at Rishilpi International Onlus, an NGO, in Satkhira's Binerpota area.
Elena tends to roam around the world. She has visited 29 countries so far. Before coming to Bangladesh, she visited India.
Around a month ago, Elena's friend Andreya came here from Italy. Andreya is a donor of the NGO. She invited Elena to visit Bangladesh. A common friend of the duo, Ilerio, also came to Bangladesh on January 31.
Romanian tourist Elena said, "I am a tourist. I have been travelling many places of the world for last three years. I love the culture of Muslim countries. The culture of Bangladesh also attracted me. I have observed many things here. I am planning to do something here."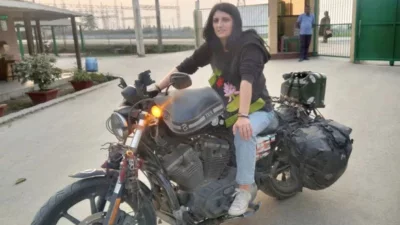 She also said, "I am a playwright and a health worker in Romania. I have got a visa of one month. I will stay here around 15 days."
Andreya said, "I have been helping a girl named Kakoli for her education. I have mainly come to Bangladesh for her. I love the culture and the hospitality of the people of Bangladesh. I will again come to Bangladesh, if I get opportunity."
Project Manager (Water Treatment Plant) of Rishilpi International Onlus, Mahmudur Rahman, said, "Elena has come here as her friend Andreya invited her to visit the place. She likes the place very much."
Elena is a tourist. She started her journey from Milan, Italy in 2019. Recently, she has come to Satkhira, Bangladesh after visiting 29 countries. Elena wants to see the world riding her 850cc motorbike. She loves the culture of Bangladesh.