Speakers at a panel discussion, organized by Daily Ittefaq, put emphasis on credible and participatory election, political consensus, stable economy and so on for a strong democracy in the country.
The discussion titled 'Road to election 2024: Past and Future of Politics and Democracy in Bangladesh was held at a city hotel on Monday (January 6).
The panelists were Shamsher M. Chowdhury Bir Bikrom, former Foreign Secretary and former Bangladesh Ambassador, USA, Dr Ahsan H Mansur, Executive Director, Policy Research Institute of Bangladesh (PRI), Nahim Razzaq, Member of Parliament, Shariatpur-3 and Shama Obaid, Organizing Secretary, BNP.
Professor Dr. Delwar Hossain, International Relations Department, Dhaka University moderated the event. Executive Director and Publisher of Daily Ittefaq, Tareen Hossain, delivered the welcome speech. She also thanked the panelists and participants for attending the program.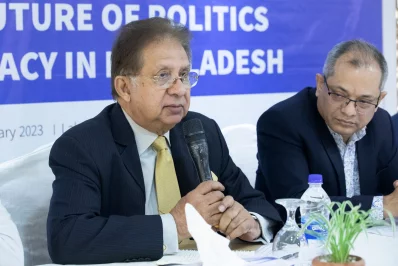 Shamsher M. Chowdhury thanked the Daily Ittefaq for organizing such discussion. He also recalled the positive role of the newspaper during 1960s, 70s and the Liberation War. He mentioned that Ittefaq has a glorious history.
Expressing his hope, he said, "The upcoming national elections in 2024 will be credible and participatory. Democracy is not perfect in almost anywhere. The basic trust of democracy is the degree of accountability. The next election can be very defining election in Bangladesh. The 2014 election boycott by the Bangladesh Nationalist Party (BNP) was a colossal mistake."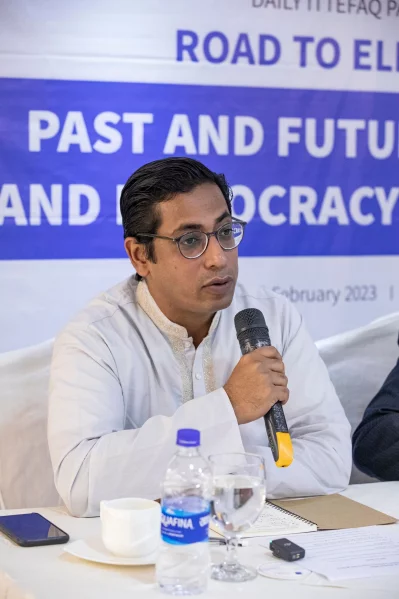 Ruling Awami League leader and MP Nahim Razzaq said "Democracy, in a way, is an ongoing process. It varies in terms of countries and regions. However, democracy must be participatory and there should be some consensus among political parties on basic values."
He pointed out the success of Bangladesh and said that Bangladesh is moving forward as it has improved its ranking in the global democracy index, democracy and by focusing on people. Strengthening of institutions is a key element in this process, Nahim Razzaq said.
The country is going ahead with the right direction under the leadership of the honorable Prime Minister Sheikh Hasina, he added.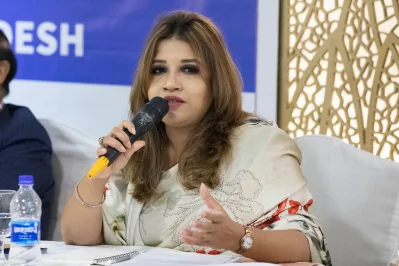 Organizing Secretary of BNP Shama Obaid pointed out that consensus among the political parties had led to agreement on 'caretaker government' during elections earlier.
She said, "Of course, democracy is flawed everywhere. In Bangladesh, democracy has gone through a lot of ups and downs."
She also said the concept can be improved by discussion among political parties but it is required to ensure a fair and transparent election.
Shama Obaid said, "I work at the root level. I go everywhere. I meet with voters. They feel vacuumed and they want to cast their vote. Although I belong to a political party, I have to admit that we failed to implement a neutral, strong election commission over the years. No matter who was in power."
She also put emphasis on the necessity of a caretaker government to hold a free and fair election.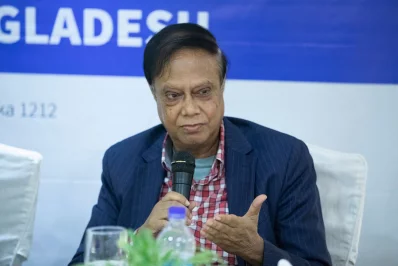 While answering the question on economy and assessing on getting the IMF loan and reigning in the economy, Director of the Policy Research Institute (PRI) Dr. Ahsan H Mansur said, "Yes, the government can reign in the economy. Certainly it (government) can... with the right policy on right time."
He also said, "The price hike of gas and power is justified as the subsidy burden was so high. The user has to pay it. We have to accept the reality."
He further said that largely it is true that our country has had several challenges including Russia-Ukraine war, post Covid situation and so on. However, we have to adjust our economy policy to face these external challenges.
Terming Bangladesh's economy far better than Sri Lanka and Pakistan, he said, "Our economy won't be vulnerable like Sri Lanka. We are not Sri Lanka and we are not even close to Pakistan."
The participants raised several issues including religious fundamentalism. They said that it presents a serious threat to democracy and needs to be checked.