Bangladesh Railway authorities have imposed a rule, which says that NID card will be needed of every passenger except minors and foreigners to get a train ticket from March 1.
Railways Minister Nurul Islam Sujan came up with the assertion while speaking at a press conference at Railway Bhaban in the capital on Wednesday (February 15).
Bangladesh Railway is going to avail three new services from the very first day of the next month.
The services are: NID must for train tickets, introducing Point of Sale (PoS) machine for checking tickets and introducing the ticket refund policy online.
Every passenger will need NID card to get a train ticket.
The minister said, "Bangladesh Railway has taken the initiative to stop any anomaly and hassle to the passenger. Every passenger will have his/her name on the ticket. The passengers will travel with their own tickets. This initiative is a part of 'Smart Bangladesh'."
For the kids from 12 to 18 years old will need the NID cards of their parents or their birth certificates to get a train ticket. They (children) must keep their birth certificates with them while travelling.
The foreign nationals will be able to get their tickets with their passport numbers and the photos of their passports.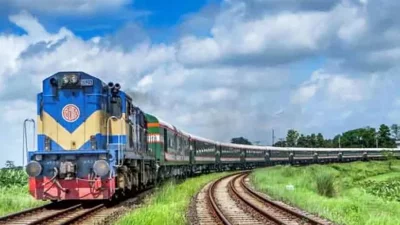 Without NID cards, passports or birth certificates, no person will be allowed to get a ticket.
The passengers must keep a copy of their NIDs or birth certificates. However, they also can keep their passport or any photo ID with them.
The passengers without tickets or wrong information will be penalized according to the rules of Bangladesh Railway.
The passengers will be able to get their tickets with their NIDs/birth certificates/passport from tomorrow (February 16).