Days before the one-year anniversary of Russia's invasion, US President Joe Biden said he was visiting the Ukrainian capital to express Washington's "unwavering" support.
US President Joe Biden on Monday made a surprise visit to the Ukrainian capital, just days ahead of the first anniversary of Russia's invasion of Ukraine.
"Joseph Biden, welcome to Kyiv! Your visit is an extremely important sign of support for all Ukrainians," Ukraine's president, Volodymyr Zelenskyy, said on social media.
The visit, which had not been announced in advance for security reasons, was Biden's first trip to Ukraine since Moscow launched the war.
In joint remarks to the press, Zelenskyy said talks with Biden were bringing Ukraine "closer to the victory" as the US president pledged a new military aid package to Ukraine.
"Today our negotiations were very fruitful ... They were very important and crucial," he said.
Biden's surprise visit to Kyiv lasted for around five hours, according to media reports. He then traveled to Poland, arriving in the capital, Warsaw, on Monday evening.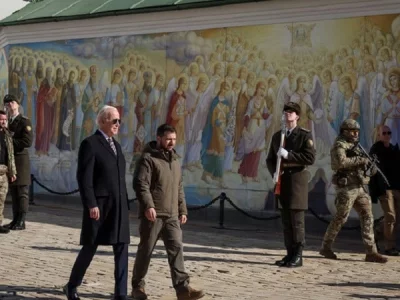 US national security adviser Jake Sullivan said that Russia was notified about Biden's visit just "hours" in advance.
"Because of the sensitive nature of those communications I won't get into how they responded or what the precise nature of our message was, but I can confirm that we provided that notification," Sullivan said on a phone call with reporters.
What did Biden say?
"As the world prepares to mark the one-year anniversary of Russia's brutal invasion of Ukraine, I am in Kyiv today to meet with President Zelenskyy and reaffirm our unwavering and unflagging commitment to Ukraine's democracy, sovereignty, and territorial integrity," Biden said in a statement.
Biden announced the delivery of further equipment to Ukraine, including artillery ammunition, anti-armor systems and air surveillance radars. He said the new military aid package was worth $500 million (€468 million).
Since the start of the war, the US has provided or pledged military aid to Ukraine amounting to almost $30 billion, according to the Pentagon.
The US' military assistance to Ukraine includes the powerful M1 Abrams tanks, which are expected to take several months to be delivered. But despite Kyiv's appeals, the US has so far refused to send fighter jets.
Why Ukraine is pleading for Western fighter jets
Washington will later this week announce more sanctions against individuals and companies linked to "Russia's war machine," the White House said.
Biden also delivered remarks at Kyiv's Mariinsky Palace. "One year later, Kyiv stands. And Ukraine stands. Democracy stands,'' Biden said.
"Russia's aim was to wipe Ukraine off the map," Biden said. "Putin's war of conquest is failing."
Why is the visit significant?
Ukrainian Foreign Minister Dmytro Kuleba said Biden's trip was "the victory of Ukrainian people and President Zelenskyy."
"It has been conducted in spite of everything for the sake of Ukraine's victory and all the free world. It is a clear signal to the swamp — no one is afraid of you!" he said, in an apparent reference to Russia.
Air-raid sirens sounded across Kyiv shortly before Biden's visit was confirmed. Ukrainian lawmaker Oleksiy Goncharenko said Biden was meeting with Zelenskyy as air-raid sirens were heard in the capital.
DW correspondent in Kyiv Aya Ibrahim said the whole country was "in the middle of an air-raid [alarm]."
"But here you have the president of the United States in the Ukrainian capital walking outside," Ibrahim said, noting that the visit marked "an extraordinary moment."
Biden to visit Poland
The White House had announced earlier this month that Biden would travel to Poland on February 20 for a two-day visit, raising speculation that the US president would also visit Ukraine.
Poland is seeking more US troop presence in its territory.
On Sunday, Polish Prime Minister Mateusz Morawiecki said he and Biden would discuss the possibility of American troops permanently being stationed in Poland.
"We are in the process of discussion with President Biden's administration about making their [troop] presence more permanent and increasing them," Polish Prime Minister Mateusz Morawiecki told broadcaster CBS.
Last June, Biden said the US would set up a new permanent army headquarters in Poland in response to Russian threats.
Biden is due to meet with Polish President Andrzej Duda and top eastern European officials during his visit.
Latest Western leader in Kyiv
Biden is the latest Western leader to travel to Kyiv since the start of Russia's war.
In June, German Chancellor Olaf Scholz, French President Emmanuel Macron and then Italian Prime Minister Mario Draghi traveled together by night train to Kyiv to meet with Zelenskyy.
British Prime Minister Rishi Sunak also visited Kyiv shortly after taking office last year.
In the weeks leading up to his visit, the White House had denied that Biden would head to Ukraine, even after the Poland visit was announced.
On Friday, White House National Security Council spokesman John Kirby was asked by a reporter if Biden's trip would include more stops beyond Poland. "Right now, the trip is going to be in Warsaw," he replied.
The visit marks Biden's first to a war zone as president. Former US presidents including Donald Trump, Barack Obama and George W. Bush made surprise visits to Afghanistan and Iraq during their time in office.
Biden said he had visited Kyiv six times when he served as vice president. "I knew I would be back," he said.