Farmers are becoming aware of the harmful aspects of chemical fertilizers, so the use of natural organic fertilizers or earthworm fertilizers is increasing day by day. Due to the huge demand, farmers are now turning to the commercial production of earthworm manure.
Through the Sustainable Enterprise Project of the Family Development Association (FDA) in Char fasson Upazila, various unions in Char fasson upazila have increased the multi-purpose use of safe milk products and increased access to large markets through sub-projects to fill the capital shortfall for beneficiaries with low-interest loans, training, free services, Various grant systems with modern technology in use.
This project includes the multi-purpose production of products as well as an online sales system for product transportation, packaging, branding, and marketing.
Apart from this, the main aim of this project is environment-friendly activities. Keeping the main goal in mind, the grant system is ongoing with financial and technical assistance to 19 entrepreneurs for making commercial vermicompost from this project. One of these entrepreneurs is Ataur Rahman Babul (a retired government official).
Ataur Rahman Babul is a permanent resident of Neelkamal Union of Dularhat Thana of Charfasan Upazila. After retiring, he became interested in the production of earthworm fertilizers commercially with the aim of making a significant contribution to the socio-economic development of the poor farmers of his area.
Babul had a version to chemical fertilizers for a long time ago. After thinking about what to do in his spare time, he decided to make natural earthworm fertilizer. He received training in 2019 from Family Development Association (FDA). After received training, he started producing earthworm fertilizer with 2 /chars/.
From an entrepreneur named Salma, he started the work of making vermi compost by taking earthworms and dung from local cow farmers and spending 4000 rupees in total for chari, bags, nets and sieves.
He started collecting manure from the second month. He could collect up to 25 kg of manure per //chari// per month. And after that, Babul became interested in making fertilizers commercially.
Ataur Rahman Babul's statement: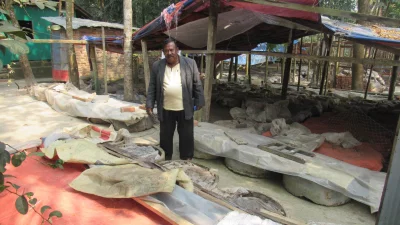 "After the manure comes out in 2 chari's, I wonder how the manure can be used. I have given free fertilizer to many farmers in the area who use fertilizer on their own land. I have spread manure in the fields of many people. Farmers understand the value of fertilizer only after the crop grows in a few months. The appearance of the crops has changed. In this way, I have popularized Sarter in the area."
After that, Babul added 20 chari to the backyard. The cow farmers of his locality provide dung.
"Through the Sustainable Enterprise Project of the Family Development Association (FDA), training and farm visits of successful entrepreneurs producing ketchon fertilizers in Tala Upazila of Satkhira, technical support, financial grants for the growth of ketchon fertilizer plants, packaging, branding, and marketing are the general service sectors of this project. i got a loan of Rs 100,000/-(one lakh) taka.
With that money, we first made 5 feet by 5 feet sized 16 manure pits, a house for dung storage, and 200 rings. We use banana plants and straw as food for earthworms."
"At present, 16 chowbachas, 200 rings, and 25 chars produce 35 maunds of fertilizer per month. The current market price of fertilizer per kg is 25 taka. I can sell it at 1000 taka per maund.
one person is always working on a monthly salary of 15,000 for dung collection, farm maintenance, and fertilizer making. Excluding all expenses, the income from this plant is about 15 thousand taka per month. "
He also said, "Earlier, farmers used to leave dung wherever they were. The environment of the house would be spoiled, the smell would come. Now 35 farmers at Durarhat police station bring dung to my plant and I give them some money in return. This increases their income and I also benefit. In addition to protecting the environment, farm waste is converted into money. Which is helping to increase the national revenue."