As many as 10 people were thought to be under the rubble after an explosion that caused two residential buildings to collapse in the southern French city of Marseille on Sunday, Interior Minister Gerald Darmanin said.
The cause of the explosion was not yet known.
The collapse caused a fire that complicated rescue efforts and that Darmanin said could take hours to put out.
He said authorities estimated there were between four and 10 people under the rubble.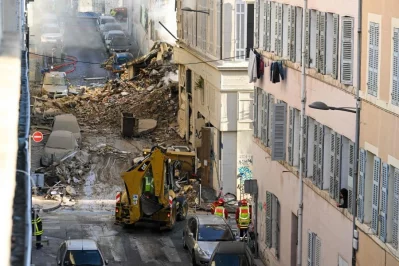 Five people were taken to hospital with serious but not life threatening injuries and a sixth person was being treated for shock, he added.
A third building has partially collapsed and people have been evacuated from some 30 buildings in the area.
The buildings that collapsed on the Rue de Tivoli were not known to have any structural problem, Darmanin said.
"Thoughts are with Marseille," President Emmanuel Macron said in a Twitter message.