Large parts of Bangladesh are suffering from an unusually severe heat wave, which is prevailing for more than a week.
According to the daily weather bulletin issued by the Bangladesh Meteorological Department, the divisions of Rajshahi, Mymensingh, Dhaka, Khulna, Barishal, Sylhet and Chattogram were being swept by a mild to moderate heat wave.
In Dhaka, the maximum day temperature further rose to 38.9C on Wednesday.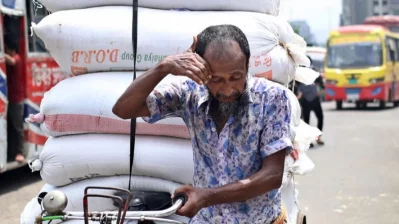 Meanwhile, the country's highest maximum day temperature of 39.7C was recorded in Chuadanga on the day.
On the streets, many sweating people try to protect themselves from the sun with umbrellas.
The extreme heat is especially dangerous for the elderly people and children. Doctors are warning of health consequences because of extreme temperatures. People are advised drink more water than usual, to stay indoor more and those who are going outside to avoid long exposure to the midday sun.