A 39-year-old suspect was detained at the scene of the attack, which took place at an elementary school in German capital. The police are investigating whether he knew the 7 and 8-year-old victims before the attack.
Two primary school girls were stabbed and seriously injured in Berlin's Neukölln neighborhood on Wednesday by a 39-year-old male suspect who was arrested at the scene of the attack.
The girls, aged 7 and 8, were both hospitalized, a police spokeswoman said. One was in life-threatening condition, while the other was seriously injured.
Berlin's Mayor Kai Wegner said he was "shocked by this inconceivable act."
"My thoughts in these difficult hours are with the two wounded girls," he said on Twitter. "I wish them a speedy and good recovery."
The attack took place in the afternoon, at around 3 p.m. (1300 GMT) in the elementary school section of the Evangelische Schule (or Protestant School) in Berlin-Neukölln.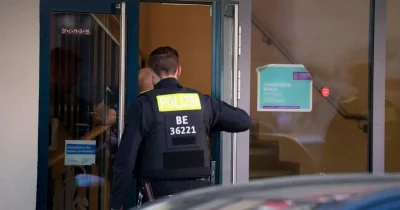 The girls were stabbed while in the school yard, authorities told news agency dpa. Around 800 children attend the school, which ranges in grades 1 to 13, reported local public broadcaster rbb.
Police then evacuated the school and cordoned off the vicinity. The crime was being investigated by a homicide squad.
The police were still investigating whether the suspect knew the victims before the attack. The Senate Department for Education meanwhile said he was acting alone.
The police are also investigating the motive behind the attack, while initially ruling out religious or political motives.