ASEAN's policy of not interfering in its members' affairs is clashing with the need to act on Myanmar. Will Southeast Asian leaders take a firmer stance?
Southeast Asian leaders on Wednesday called for an immediate end to the fighting in military-ruled Myanmar in a bid to create space for dialogue and allow for aid to reach the public.
"We were deeply concerned with ongoing violence in Myanmar and urged the immediate cessation of all forms of violence and the use of force," leaders said in a joint statement after discussing the issue at a summit of the Association of Southeast Asian Nations (ASEAN) in Indonesia.
Patience within the 10-member bloc is wearing thin as Myanmar's junta leaders fail to act on the five-point peace plan it agreed to two years ago.
The deal called for Myanmar to allow a special ASEAN envoy to meet the imprisoned former leader Aung San Suu Kyito promote dialogue. Myanmar's lack of cooperation led to its exclusion from the November 2022 ASEAN meeting in Phnom Penh, Cambodia, after an ASEAN representative was not allowed to meet the former leader and Nobel Peace Prize laureate. Since then, Myanmar's seat in the bloc has remained empty.
Need for 'conducive environment'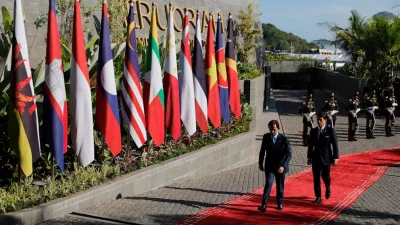 ASEAN leaders sought the creation of "a conducive environment for the safe and timely delivery of humanitarian assistance and inclusive national dialogues."
This comes days after unknown assailants shot at a convoy of regional diplomats and aid workers attempting to bring relief to the 1 million people displaced by the conflict since the coup in 2021.
"We condemned the attack and underlined that the perpetrators must be held accountable," ASEAN leaders said in their statement.
Moreover, Myanmar's military has intensified attacks and airstrikes on ethnic minority rebels as it tries to consolidate power ahead of a planned election.
An airstrike on a village in a rebel stronghold last month — reportedly killing about 170 people — sparked global condemnation and worsened the junta's isolation.
ASEAN's failure to act?
ASEAN leaders have been under pressure to act on the intensifying violence in Myanmar and take a stance as a bloc. That's despite its policy not to interfere in its members' internal affairs.
Jakarta's chairmanship this year had raised hopes that ASEAN could push for a peaceful solution to the situation in Myanmar by using its economic weight and its diplomatic experience.
Indonesian President Joko Widodo had earlier said the bloc needs both to speak up and speak as one.
"Will ASEAN only be silent or will ASEAN be able to become the driver or peace or growth?" he had said.
Some criticized ASEAN's lack of action.
"To leave the seat empty at ASEAN summits is actually their comfort zone, they don't have to be held accountable," Indonesian former Foreign Minister Marty Natalegawa said. "Excluding the junta is only part of a series of steps that should be taken."
Meanwhile, Philippine Foreign Minister Enrique Manalo defended the bloc: "ASEAN is doing as much as it can really because when you are there on the ground it's not that easy."