At least six people have been killed in a fire that tore through a four-storey hostel in the early hours of Tuesday in central Wellington, capital city of New Zealand.
Smoke could be seen pouring from the Loafers Lodge hostel during the night, as 80 firefighters and 20 trucks battled the blaze.
Police and emergency services said multiple people had died and 52 people had been rescued with dozens more unaccounted for.
Prime Minister Chris Hipkins said the death toll was at least six.
Firefighters used a ladder truck to save people trapped on the roof, said Fire and Emergency deputy national commander Brendan Nally.
"They plucked quite a few people off the top of the roof from an area directly above the fire," Nally told Radio New Zealand.
"There was no other way. Those people were going to perish, except for the intervention of our team. Multiple people are walking around because of it," he said.
There were no sprinklers in the hostel and the fire alarm did not go off automatically, Nally said.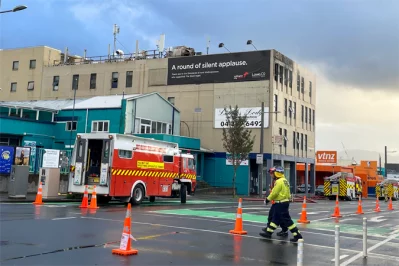 One of the hostel residents, who gave his name only as Chris, told public broadcaster TVNZ that he crawled out of his room to escape through dense smoke.
"It was just getting to the stairwell. It was black as, thick as smoke. It was hard to breathe. Everything's gone. My room's thrashed. I grabbed my vape and my phone instead of my shoes," he said.
Around 90 people were thought to have been in the building when the fire started, fire services said.
The prime minister described the fire as "an absolute tragedy."
Asked about the number of dead, Hipkins said: "I understand six confirmed previously, but it looks like there were likely to be more."
The New Zealand leader said many shift workers were staying in the hostel, making it difficult to know how many people were in the building at the time of the fire.
Six people were taken to hospital, one in a serious condition, Wellington ambulance service said.
An additional 15 people were treated at the scene.
A police spokesperson said the final death toll was expected to be "fewer than 10", but the number would only be known after they could access the building.
The prime minister praised the "incredible effort" of firefighters to extinguish the fire and evacuate people.
"I acknowledge the victims and their families – an absolutely tragic set of circumstances, a tragic situation," Hipkins added.
He promised a "thorough review" of the disaster.
"There will be an opportunity to test whether this building was fully compliant with all of the rules that it needed to be compliant with but obviously the focus at the moment is supporting our firefighters," Hipkins said.
Police said the cause of the fire was "unexplained" and they would be working with the fire services to determine the cause.