State media reports that a Chinese fishing boat operating in the Indian Ocean has sunk and all 39 crew members on board are missing.
Broadcaster CCTV said the sinking happened around 3 a.m. Tuesday. The crew includes 17 from China, 17 from Indonesia and five from the Philippines, the report said.
Chinese leader Xi Jinping and Prime Minister Li Qiang have ordered Chinese diplomats abroad, as well as the agriculture and transportation ministries, to assist in the search for survivors.
The Lupenglaiyuanyu No. 8 was based in the eastern province of Shandong, operated by the Penglaiyingyu Co. Ltd.
China is believed to operate the world's largest fishing fleet. Many of them stay at sea for months or even years at a time, supported by Chinese state maritime security agencies and a broad network of support vessels.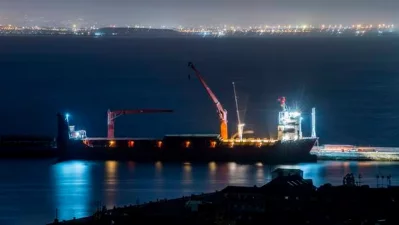 No word was given on the cause of the sinking.
Recovery efforts are underway in Myanmar and Bangladesh after a powerful cyclone smashed into their coastlines, causing widespread destruction and at least 21 deaths, with hundreds of others believed missing.
Chinese squid fishing ships have been documented using wide nets to illegally catch already overfished tuna as part of a surge in unregulated activity in the Indian Ocean, according to a report released in 2021 by a Norway-based watchdog group that highlights growing concerns about the lack of international cooperation to protect marine species on the high seas.
The U.S. Coast Guard was also involved in a dangerous confrontation with Chinese vessels not far from Ecuador's Galapagos Islands in 2022 during a mission to inspect the vessels for any signs of illegal, unreported or unregulated fishing.