Tension prevailed outside former Pakistan prime minister Imran Khan's house in Lahore city on Friday amid a wave of arrests of his supporters.
The interim administration of Punjab province on Wednesday claimed that there were "30-40 terrorists" at his Zaman Park area residence.
Punjab Caretaker Information Minister Amir Mir said Thursday. that law enforcers will conduct a search operation at Pakistan Tehreek-e-Insaf (PTI) Chairman Imran Khan's Lahore residence after his permission and in front of cameras to apprehend "terrorists".
"We [the interim government] have decided that instead of a head-on collision, we will send a delegation to Khan sahab under the supervision of the Lahore commissioner." said he in conversation with Geo News.
The minister had given a 24-hour deadline to the PTI chief for handing over "30-40 terrorists" present inside his Zaman Park residence.
Mir also said Punjab Caretaker Chief Minister Mohsin Naqvi conducted a meeting, in which it was decided that the delegation would take an appointment from Imran's team and meet him after Friday prayers.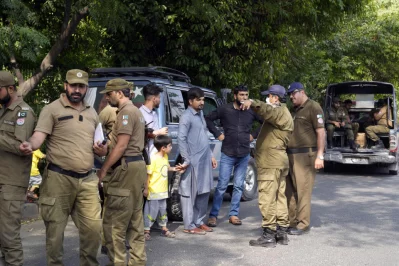 "They will ask him [Imran Khan] to allow them to conduct a search operation. A police party — comprising 400 personnel — will accompany the delegation as there is a reported presence of terrorists," he added.
Imran earlier invited the media to his house to see if "terrorists" were hiding in his home.
"I have heard there are 40 terrorists sheltering in my house. I have a request, if there are 40 terrorists, it's a threat to my life. Please do come (to arrest them), but do not launch a raid. Bring a search warrant, like a civilized society, at least tells us the names of these terrorists," Imran Khan said on Wednesday.
"If he does not permit the delegation to conduct the search, then we will decide our strategy, but for now, we will want things to be conducted in a positive manner," the minister added.
Earlier, at least 25 protestors were killed and 600 injured in last week's unrest, according to the PTI.
Imran said more than 7,500 of his supporters and party leaders have been held in the ongoing crackdown by security forces.