The Annual High profile meeting of the group of strategic vision Russia Islamic world took Place in the city of Kazan, Tatarstan of the Russian Federation on May 19.
Alhaj Syed Nazibul Bashar Maizvandary MP, Bangladesh Tariqat Federation Chairman, participated in the meeting as the only member of the Group of strategic vision Russia Strategic vision from Bangladesh.
The head of the Republic of Tatarstan also the chairman of group of Strategic vision H E Rustam Minnikhanov inaugurated the meeting.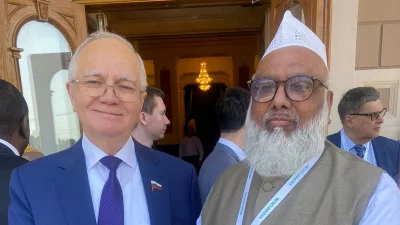 A special message was delivered on behalf of the President of Russia H E Vladimir Putin. The foreign minister of the Russian Federation also gave a video message.
The meeting was participated by a senior member of the foreign Ministry of Russia along with strategic groups top representatives, said a press release.
High-level Participants from Saudia Arab, Kuwait, UAE, Egypt, Iran, Malaysia, and Indonesia amongst other Muslim countries were present.