After a visit to the eastern frontline, Ukraine's president promised to create new brigades. Elsewhere, the governor of Belgorod has claimed the territory came under drone attack.
Ukraine President Volodymyr Zelenskyy said on Wednesday that Kyiv is planning to reinforce its marine brigades.
"New marine brigades will be added to our existing units, and we will provide them with modern weapons and equipment," he said in his nightly video address.
Ukraine's "key task" was "to bolster our defense, to increase the capabilities of our warriors and our country as a whole," he said.
Zelenskyy made the comments after visiting front-line positions near the towns of Vuhledar and Maryinka in the Donetsk region.
He presented awards to dozens of soldiers on the national Day of the Ukrainian Marines.
Here are some of the other developments concerning Russia's war in Ukraine on Wednesday, May 24:
Belgorod under drone attack again, governor claims
Belgorod has once again come under drone attack, according to the governor of the Russian region close to the Ukraine border.
Vyacheslav Gladkov reported on his Telegram channel that no one was injured after an explosive was dropped.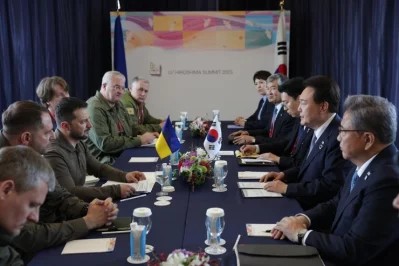 Russia said Tuesday it had quashed an attack by Ukrainian saboteurs on the region, following a 24-hour battle that left 70 people dead. Kyiv denied any involvement.
The US said it does not "encourage or enable attacks inside Russia." State department spokesman Matthew Miller told a press briefing, however, that as Russia was the aggressor, the US would "leave it to our Ukrainian partners to decide how to conduct this war."
Miller also said Washington was "skeptikal" about reports that US-supplied weapons had been deployed during the attack on Belgorod.
Russian jet intercepts two US bombers over Baltic — Russian media
A Russian military jet was dispatched to intercept two US bombers that were flying over the Baltic Sea, Russian news agencies TASS and Interfax reported citing military sources.
The Pentagon said that the aircraft was part of a long-planned exercise in Europe.
A US Defense Department spokesperson said that the interaction with the crew of the Russian aircraft was "safe and professional."
The two Russian Su-27 jets took off after two US supersonic B-1B bombers approached Russian airspace, according to Russian media.