Prime Minister Sheikh Hasina today reiterated her commitment to hold free, fair and neutral election in the country.

"We always fought for the free, fair and neutral election in the country, and we've already held free, fair and neutral election," she said.

The premier made the remarks while visiting US Under Secretary for Civilian Security, Democracy, and Human Rights Uzra Zeya called on her at her official residence Ganabhaban here.
Prime Minister's Press Secretary Ihsanul Karim briefed the reporters after their meeting.

Uzra Zeya said her country announced the new visa policy to assist Prime Minister Sheikh Hasina's commitment to hold free, fair and neutral election.

"We don't have any partiality towards any party. We want a neutral, free and fair election," she said.

Sheikh Hasina said she personally from her student life and even Bangabandhu's family and Awami League (AL) always fought for the rights of the people.
"We always fight for the people's right to choose their representatives," she said.

She also said it was BNP that started vote rigging in the country, which has been changed by the present AL government. In this connection, she said that transparent ballot boxes have been introduced for the polls.

The premier recalled the atrocities, terrorism activities and arson attacks of BNP and their allies during 2013-15 that killed 500 people.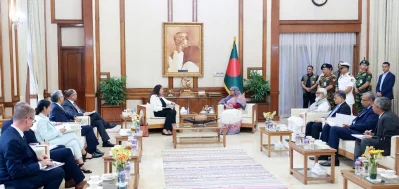 She also mentioned the August 21 Grenade attack on her, when AL leaders and activists saved her through creating human shield.

The visiting US Under Secretary for Civilian Security, Democracy and Human Rights said that she already visited the Rohingya camps and talked to them.

She put emphasis on strengthening coordinated international efforts to ensure repatriation of the forcibly displaced Rohingyas to their homeland in Myanmar.

Uzra Zeya mentioned that US will provide some US$ 74 million for the operational cost in Rohingya camps.

She highly appreciated Sheikh Hasina for hosting such a huge number of Rohingyas in Bangladesh.

Uzra Zeya told the premier that her country will cooperate with Bangladesh for its financial and economic development.

Prime Minister Sheikh Hasina said that Bangladesh is currently hosting more than one million Rohingyas in two different places of the country.

But, now human trafficking and anti-social activities are taking place in the camps which are very much alarming for the country's security, she added.

While talking about labour issues, Uzra Zeya said that the US will help and work together with Bangladesh in labour reforms initiative.

In his connection, Sheikh Hasina highlighted that she personally motivated the owners of the industries to enhance the wages and other facilities of the workers several times.

Prime Minister's Private Industry and Investment Adviser Salman Fazlur Rahman, Foreign Secretary Masud Bin Momen, Prime Minister's Office (PMO) Secretary Mohammad Salahuddin, Bangladesh Ambassador to the United States Mohammad Imran, US Assistant Secretary of State for the Bureau of South and Central Asian Affairs Donald Lu and US Ambassador Peter Haas were present.