Under Secretary for Civilian Security, Democracy, and Human Rights Uzra Zeya met with the Honorable Prime Minister Sheikh Hasina on July 13, 2023. They discussed the strong and growing partnership between the United States and Bangladesh, including coordination on issues from humanitarian assistance to gender equality.
They spoke about efforts to advance a prosperous future built on strong democratic institutions, including free and fair elections; the vital role of civil society and independent media; promoting human rights and fundamental freedoms, including freedom of association and labor rights.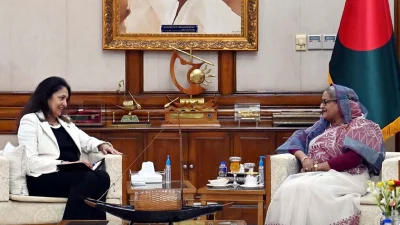 The Under Secretary and Prime Minister also discussed Bangladesh's generous hosting of Rohingya refugees and their continuing need for support from the global community. The United States is proud to have provided more than $2.1 billion in humanitarian assistance to support Rohingya refugees and host communities in Bangladesh and the region since August 2017. The Under Secretary also shared that the United States is providing more than $74 million in additional humanitarian assistance to support the ongoing response efforts in Burma and Bangladesh, including nearly $61 million to support Rohingya internally displaced in Burma, Rohingya refugees in Bangladesh, and their host communities, including in Bangladesh, while urging continued support by other donors and potential donors.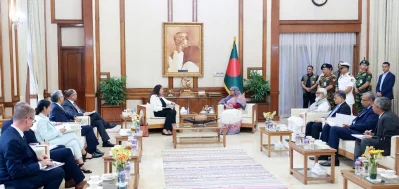 Given declining donor support and rising camp insecurity, the United States strongly encourages the Government of Bangladesh to expand livelihood opportunities for Rohingya refugees. The United States is also maintaining pressure on Burma's military regime to end the crisis and create the conditions for the eventual voluntary return of Rohingya to their homeland in a manner that is safe, dignified, informed, and sustainable.

The Under Secretary is in Bangladesh July 11-14 with a delegation of senior U.S. government officials from the Department of State, the U.S. Agency for International Development, and the National Security Council, including Assistant Secretary for the Bureau of South and Central Asia Donald Lu. They are meeting with senior government officials, civil society members, Rohingya refugees, and representatives from humanitarian organizations.