M Towhidul Rifat a social media personality, Influencer and content creator. Some of you maybe didn't hear his name but i must say most of you heard about the name "Bitik BaaZ"
In 2017, M Towhidul Rifat started his Youtube career with his team and found success with his YouTube channel & Facebook page "Bitik BaaZ".
He has amassed more than 800,000 lakh subscribers on YouTube but with the endless love of people within three and a half years, he and his team were able to reach 1,000,000 followers on Facebook and counting is still on.
They created their Facebook page after 2 years of creating their Youtube channel.
They have two verified channels on Youtube one of them is "BitiK BaaZ" and the other one is "BitiK Bros" and both of them have received two honorary silver play buttons from YouTube.
His videos have the power to instantly put a smile on the faces of his viewers. Team BitiK BaaZ makes 10-12 videos every month. Most of them are healthy entertainment content, such as Bangla movie reviews, Bangla funny videos, social awareness issues, etc. He is easily one of the best creator in Bangladesh. Bitik BaaZ" found fame and recognition with their funny videos & songs review.
At the beginning they had 11 members but recently, Bitik BaaZ has a total of 7 active members and all of them are living in Dhaka, Bangladesh.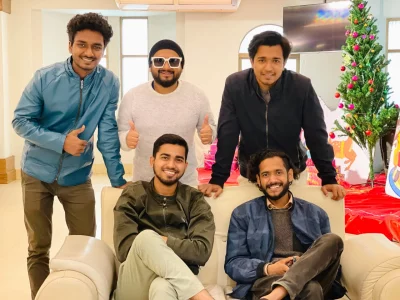 Between them M Towhidul Rifat's home town is in Brahmanbari and Mohib Hasan Shakib's home town is in Pirojpur. And they are mostly seen on screen. Along with studies, they have chosen content creation as a career. Towhidul Rifat Esan has completed his undergraduate studies from Govt. Titumir College. On the other hand Mohib Hasan Shakib is still studying for his undergraduate degree.
At Mirpur in Dhaka they have their own studio setups to make their videos. But at the beginning they used to shoot their video at friends house & hostel.
Bitik BaaZ has earned a reputation as the brand ambassador of several reputed companies. They are collaborating with many companies in the country as well as abroad.
"Bitik BaaZ" is now one of the well known name in Bangladesh and It is all because of hard work and dedication of M Towhidul Rifat as well as his team members. The main vision of M Towhidul Rifat is to take his channel to the next level by producing the best digital content for the audiences that they love. Who could think, These guys will become one of the popular YouTubers in the country.