Jatiya Sangsad on Sunday unanimously adopted a condolence motion expressing profound shock at the demise of two ruling party lawmakers of the eleventh Jatiya Sangsad and other distinguished personalities.
Speaker Dr Shirin Sharmin Chaudhury moved the condolence motion immediately after beginning of the 24th session of the eleventh parliament and adopted it following a brief discussion by the lawmakers.
Prime Minister Sheikh Hasina, also leader of the House, took part in the discussion.
The MPs described the two deceased lawmakers' valiant freedom fighter and noted politician M Abdul Quddus of Natore-4 and Rebeka Momen of Netrokona-4 as great leaders and said they will remain alive in the hearts of the people.
Participating in the discussion, State Minister for Information Communication and Technology (ICT) Zunaid Ahmed Palak said "Lawmakers M Abdul Quddus and Rebeka Momen were two dedicated soldiers of Father of the Nation Bangabandhu Sheikh Mujibur Rahman."
"Valiant freedom fighter M Abdul Quddus who was also the chief of Mujib Bahini of the greater Rajshahi division had protested the assassination of Bangabandhu Sheikh Mujibur Rahman and his family members on August 15 in 1975 and was imprisoned for five years", said the state minister.
Praising their role, opposition Jatiya Party lawmaker Mashiur Rahman Ranga of Rangpur -1 said these two ruling party lawmakers had contributed a lot for establishing the ideology of Father of the Nation Bangabandhu Sheikh Mujibur Rahman.
Paying rich tribute to these two deceased lawmakers, noted lawmaker Tofail Ahmed of Bhola-1 said M Abdul Quddus was a great leader of the northern region and Rebeka Momen was also a student leader of Rajshahi University.
Sheikh Hasina said these two lawmakers were very much popular and dedicated MPs of the party, who always played a bold role in every movement and struggle.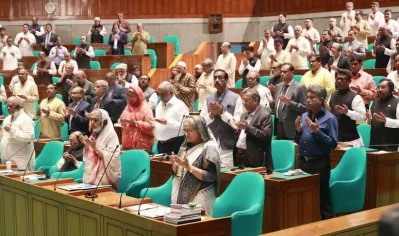 Recalling their role, the PM said they had always worked for the interest of the people. She expressed deep shock at the death of all the distinguished persons.
The lawmakers also recalled the contribution of valiant freedom fighter and former minister M Matiur Rahman, Professor Panna Kaiser, valiant freedom fighter and former air chief Air Vice Marshal (retd) Sultan Mahmud, noted liberation war organizer Sirajul Alam Khan, Ekushey Padak recipient Poet Mohammad Rafiq, Quamrunnesa Ashraf Dina, wife of State Minister for Social Welfare M Ashraf Ali Khan, noted publisher and editor of a defunct Bengali daily 'Ajker Kagaj' Kazi Shahed Ahmed, Kamal Uddin Ahmed Khan, father of Kanij Fatema Ahmed MP and Independent award recipient, noted Agriculture scientist and inventor of 'Kazi Piara' Kazi M Badruddoza.
The parliament also expressed deep shock on forest fire at Maui of Hawai island in the USA, tragic train accident in Urisha state of India and causalities due to accident in different places across the world.
Deputy leader of the Jatiya Sangsad Begum Matia Chowdhury, Amir Hossain Amu of Jhalokathi-2, Shafiqul Islam Shimul of Natore-2, Sajjadul Hasan of Netrokona-4, Wasika Ayesha of, State Minister for Social Welfare Ashraf Ali Khan Khosru and Abdul Aziz of Sirajganj-3, among others, spoke.
Later, a one minute silence was observed and a munajat was offered seeking eternal peace of the departed souls. Hafez Ruhul Amin Madani, MP, of Mymensingh-7 conducted the munajat.