Chinese Ambassador in Dhaka Yao Wen has said his country supports Bangladesh in opposing "external interference" to keep internal stability and achieve development.
"China supports Bangladesh in safeguarding national sovereignty, independence and territorial integrity, and in opposing external interference, so that the country can maintain domestic unity and stability and achieve development and revitalization," he said.
The Chinese ambassador made the remark while speaking at a reception, hosted by Chinese embassy at a city hotel on Monday evening to celebrate China's 74th anniversary.
Home Minister Asaduzzaman Khan spoke as the chief guest while chairman of parliamentary Standing Committee on Ministry of Foreign Affairs Faruk Khan and State Minister for Disaster Management and Relief Dr. Md Enamur Rahman were present among other dignitaries.
The Chinese ambassador said Bangladesh and China are committed to further deepening strategic cooperation and thereby uplifting China-Bangladesh relations to a higher level in the new era.
"Bangladesh firmly pursues the one-China principle and appreciates the important role China has played in promoting regional peace and stability," he said.
He said Bangladesh is the first South Asian country to join the BRI and over the past seven years, the BRI has taken root and blossomed in the golden Bay of Bengal.
The envoy said the two countries should seize the new historical opportunities of development, further integrate development strategies, carry out BRI cooperation targeting high-quality development, and exploit the respective economic advantages to complement and supplement each other.
"We could deepen cooperation in the fields of infrastructure development, information technology, new energy, agriculture, so on and so forth. With joint effort, we would definitely realize the Chinese Dream of the Great Rejuvenation of the Chinese Nation and Bangladesh's Vision 2041," he said.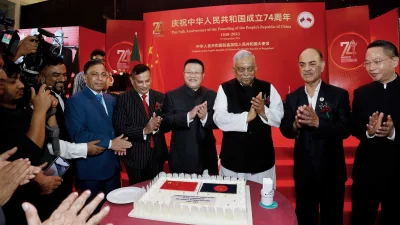 Over the past decade, he said, China has adhered to this diplomatic guideline and actively developed the amicable neighborhood relations.
He said China and Bangladesh have fought back to back against common challenges, such as the Covid-19 pandemic and the current surge of dengue fever.
"At regional and international arenas, we always respect, understand and uphold each other to sustain our common interests," said the envoy.
There were various attractive programs on the sideline of the reception. Actors of China's Sichuan Overseas Friendship Association Cultural Exchange Mission performed acrobatics, Chinese calligraphy and Sichuan opera.
An exhibition was held featuring on achievements of Belt and Road cooperation between China and Bangladesh. Cultural booths were set up with the themes of A Bite of Sichuan, Colorful Yunnan, Ink Wash, and Read China.