Parliamentary Vice-Minister for Foreign Affairs of Japan Komura Masahiro today said his country wants dignified return of forcibly displaced Rohingyas to their homeland Myanmar as he called on Prime Minister Sheikh Hasina at her official residence Ganabhaban here.
"Japan wants dignified return of forcibly displaced Rohingyas to their homeland Myanmar," PM's Press Secretary Ihsanul Karim quoted Masahiro as saying in a media briefing after the meeting.
According to Karim, the Japanese vice minister said Tokyo also wants to assist local people of Cox's Bazar who are suffering numerous difficulties due to the presence of huge number of Myanmar nationals Rohingyas there.
In reply, the prime minister thanked Japan for its continued support in efforts of safe, sustainable and dignified repatriation of the Rohingyas, who are now taking shelter in Bangladesh.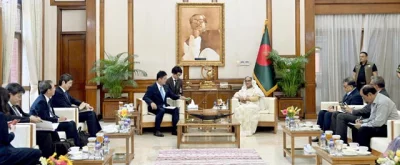 Sheikh Hasina also appreciated Japan's contribution to the development of Bangladesh's various sectors, mentioning several mega projects like Matarbari Power Plant, third Terminal at Hazrat Shahjalal International Airport, Dhaka Metro Rail projects being implemented by the Japanese assistance.
In reply, the Japanese vice minister said the newly constructed third terminal would contribute a lot to Bangladesh's graduation to a developing nation.
He said Tokyo would continue assistance for the economic development of Bangladesh under "Big-B" cooperation.
He mentioned that the Matarbari Power Plant and Deep Sea Port, being constructed under Japanese cooperation, will play significant role in the development of Bangladesh as well as the North-Eastern India.
Laying emphasis on the people-to-people contact between both the countries, the Japanese vice minister said direct air connectivity has been restored between Dhaka and Narita to this end.
During the meeting, the prime minister said her government has given an Economic Zone to Japan at Mirsharai in Chattogram where Japanese entrepreneurs are investing for the mutual benefits.
Referring to her official visit to Japan in April last, Sheikh Hasina said the visit elevated the bilateral ties between Dhaka and Tokyo to a strategic partnership.
Recalling the visit of Bangabandhu Sheikh Mujibur Rahman to Japan in 1973, the premier said it laid the foundation of the friendship between the two countries.
In this connection, she mentioned that the dream of the Father of the Nation was to transform Agro-based Bangladesh into an industrial-based economy.
Foreign Secretary (Senior Secretary) Masud Bin Momen and PMO Secretary Mohammad Salahuddin were present.